SIMLAB
Using patient simulation for student exploration of community health issues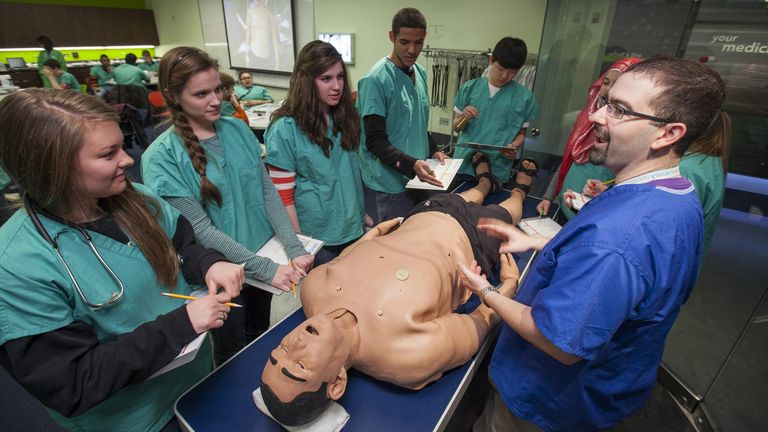 R25RR026013-01 A1
Start date: 20110913
End date: 20170630 (with no-cost extension year)
Audience: Students in 7th through 12th grade
Subjects addressed:
In-Museum Learning Labs: diabetes, heart disease, asthma
Online experience: tuberculosis, lead poisoning, viral meningitis
The Museum of Science and Industry, Chicago (MSI) SEPA–funded project SIMLAB: Using Patient Simulation for Student Exploration of Community Health Issues is an innovative collaboration between the Museum and Chicago Public Schools. The project focuses on exploring community health issues using iStan™, a human patient simulator. iStan is a computer-driven, full-sized manikin that delivers true-to-life biomedical scenarios that swiftly change to meet the user's goals. The ultra-sophisticated and highly versatile iStan blinks, speaks and breathes, has a heartbeat and a pulse, and accurately mirrors human responses to such procedures as cardio-pulmonary resuscitation, intravenous medication, intubation, ventilation and catheterization. Although this technology is widespread in medical education, this is the first time it is being used in a museum setting to target primary and secondary education.
The results of the SIMLAB project are a menu of three Museum-based Learning Lab programs (called MedLab) designed for upper-middle and high school students and an online experience (MedLab Online) designed for use in classrooms throughout the Chicago Public Schools system and beyond. The structure of the onsite labs and the online experience is essentially the same. However, students are able to interact with the patient simulator and perform hands-on lab tests during the in-Museum Learning Lab, whereas with the online experience students perform virtual lab tests and engage with the program entirely via iPads and large-screen projection.
In each of the labs, students are introduced to a "patient" and gather information about the patient's condition. Students hypothesize what the diagnosis might be, perform tests to assess the validity of their diagnosis and prescribe potential treatments. The overarching goal of the project is to build awareness and interest in health sciences and biomedical careers.
The primary program impacts are to:
Increase understanding of and interest in a range of health and health sciences careers that impact community and individual health.
Increase understanding of medicine physiology and anatomy.
Increase understanding of how personal choices impact community health issues.
Foster students' feelings of empowerment about taking initiative in their personal, family and/or community health.
Increase participation in activities that contribute to the betterment of a community health issue.
SIMLAB Advisory Committee
Vineet Arora, M.D., MAPP
Associate Professor of Medicine
University of Chicago Pritzker School of Medicine
Eric Bauman, Ph.D., RN
Associate Director
Simulation Center of Excellence at DeVry, Inc.
Kathleen Burke
Chief Executive Officer
Robert Crown Centers for Health Education
Jenny Colombo, PharmD
Vice President, Scientific Strategies and Communications
Takeda Pharmaceuticals International, Inc.
Kin Kong, Ph.D.
Assistant Professor
The Chicago School of Professional Psychology
Leilah Lyons, Ph.D.
Assistant Professor
Rosalind Franklin University of Medicine and Service
MaryAnn Mason, Ph.D.
Director, Evaluation and Community Research
Consortium to Lower Obesity in Chicago Children at the Ann and Robert H. Lurie Children's Hospital of Chicago
Carla Pugh, M.D., Ph.D.
Clinical Director
University of Wisconsin-Madison Health Clinical Simulation Program
Marcia Stout
Director of Simulation
Rosalind Franklin University of Medicine and Service
Wendy Jo Wilkinson Bowman
Director, Clinical Support Solutions
CAE Healthcare
This program is supported by a Science Education Partnership Award from the National Institutes of Health.