life science
Live from the Heart
Go live into the operating room and watch via video conference as a surgical team performs heart surgery. Talk to the team, learn about heart health and find out about medical careers.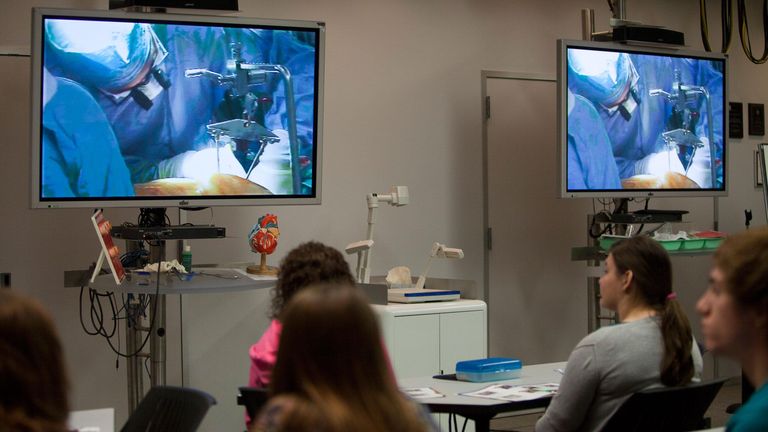 About the lab
For school year 2022-23, Live from the Heart registration will be limited to online attendance only.
Grades: 9-12
Capacity: 40 (includes students + teachers)
Duration: 2.5 hours
Cost: $250
Offered Wednesdays 9 a.m. to 11:30 a.m.—limited availability
Students and teachers can participate remotely from anywhere with a web-enabled device capable of using Zoom.
Learn more about how the program works
Next Generation Science Standards
Science and Engineering Practices:
Asking questions
Obtaining, evaluating and communicating information
Crosscutting Concepts:
Cause and effect
Systems and system models
Structure and function
Disciplinary Core Ideas:
LS 1: From molecules to organisms; structure and function
LS 3: Heredity; inheritance and variation of traits
ETS2: Links among engineering, technology, science and society
Lab goals
Students will:
Increase their understanding of science concepts as they relate to heart surgery.
Have an increased awareness of STEM careers.
Have an increased comfort exploring and engaging in the content.
Have a desire to learn more extending the ideas explored in the lab.
Work collaboratively with peers.
Communicate using correct terminology.
Develop questions regarding anatomy of the heart, careers in the OR, and their personal health.
Predict and observe what happens during the major steps of the surgery.
Practice observation skills by recording patient and surgery data.
Understand how lifestyle choices affect personal health
Sponsored by and presented in partnership with