Be "transported" to immersive adventures in outer space or under the sea!
See the Earth as never before or face the dangers of space in this virtual reality experience. VR Transporter combines state-of-the-art VR goggles with exciting motion and 4D effects to fully immerse you in a first-person role in the adventure you choose:
Apollo 11 & Beyond: Climb aboard a massive Saturn V rocket and blast off for adventure to witness humankind's first inspiring steps on the Moon.
Spacewalk – Danger in Orbit: Leave the safety of the Space Shuttle cargo bay on an exciting zero-G extravehicular activity (EVA) around the International Space Station.
Dive in Prehistoric Seas: A mysterious ocean vortex carries you back in time where you glimpse amazing marine life of the distant past from inside a submersible.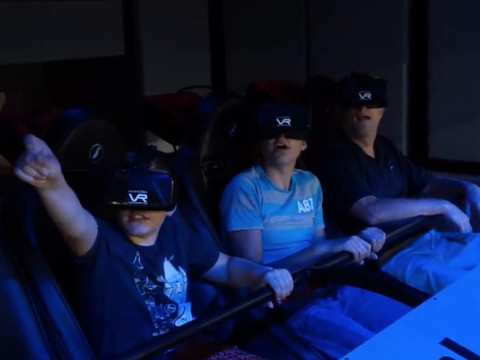 Tickets
VR Transporter is not included in Museum Entry and requires a separate, timed-entry ticket available in the Henry Crown Space Center. Tickets are $11, or $9 for MSI members.
Up to four people may ride per cycle. Recommended for ages 13 and older. Guests under age 13 but at least 42 inches tall may ride with parent/guardian consent. (Approx. 5 minutes.)

Eyeglasses cannot be worn with the VR Headset. Please review medical advisories at the exhibit.