A Hollywood movie star built herself a gorgeous dream home, sparing no expense on the details. The one big difference? She thought small.
One of the most popular film actresses of her time, Colleen Moore assembled a legion of her industry colleagues to help craft this miniature home of fantastic proportions. She shared it during the Great Depression, touring the country to raise funds for children's charities. Then this one-of-a-kind castle was welcomed into its new home at MSI, where it has enchanted children of all ages since 1949.
Let's Get Small
A Fairy Fine House
From the chapel's floor-to-ceiling stained glass to the flickering of the tiniest lights, every inch on display is a study in artistry and craftsmanship. The Fairy Castle is virtually a museum within our Museum, a collection of miniature treasures in every room, from inch-square books signed by the world's greatest authors to statues nearly two thousand years old. Though the Castle's magical residents are never seen, we know for certain they have exquisite taste.
The Fairy Castle's inhabitants
are left to your imagination,
as Colleen Moore always intended.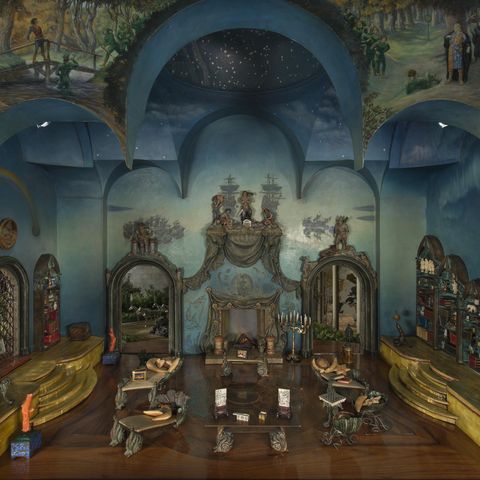 Whether you enjoy hearing the story of the Fairy Castle or creating your own, the magic is in the imagining.
How does the Fairy Castle feel so alive? Every room looks as if someone had just left it. Perhaps you'll imagine what it would be like to live in something so lavish, or wonder how things can be made that are so tiny yet realistic. The real secret of the Fairy Castle is that the space inside your mind is also part of the experience.
Skip carousel
It is the ultimate enchanted castle: lush gardens, sumptuous rooms, decorated with precious furniture and priceless art. There are glowing chandeliers, and elegant bathrooms. Rita Braver CBS News
At first we just glanced at the rooms and didn't really believe the recording that said one of the miniature busts was a 2000 year old antique... My husband was even impressed. TwinCreek Michigan
My 10 year old daughter loved the fairy castle doll house—and I did too. Stacey R Louisville, Kentucky
Thoroughly enjoyed my visit to the Science Museum. You MUST check out the "Fairy Castle" exhibit. It was exquisite... dgils5 Williamstown, New Jersey