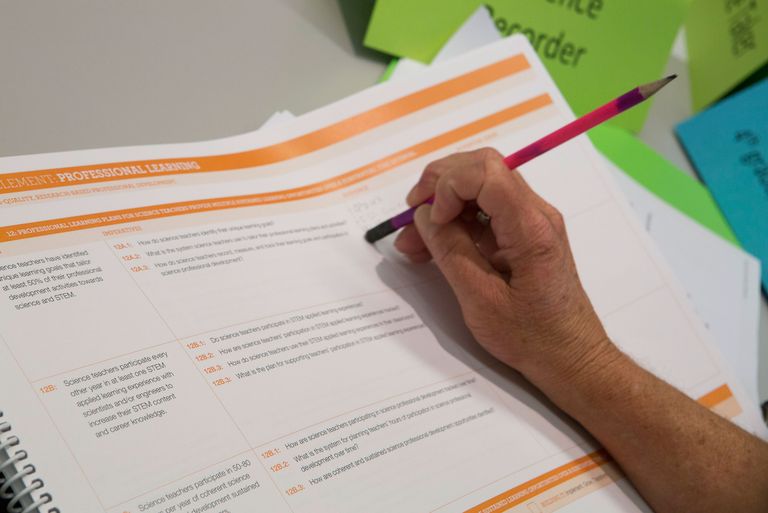 MSI-trained Teacher Leaders utilize the School Support Tool at their schools. Grounded in current education research, the tool identifies eight Essential Elements for schools to consider. The tool's design uses a rating system and action plan cycle for yearlong planning and implementation, and is housed in an online digital portal that collects, archives and manages information.
Eight Essential Elements
Values: Establish a positive school culture emphasizing sustained, systemic collaboration and shared norms, attitudes and beliefs.
Collaboration and Planning: Maintain an effective collaboration infrastructure within and across all grade levels.
Curriculum and Instruction: Prioritize high-quality science and STEM educational experiences in every grade to prepare students with the skills necessary for college and careers.
Professional Learning: Participate in high-quality, research-based professional development.
Communication: Provide ongoing communication with the school community highlighting science programming priorities in support of the school's STEM education initiatives.
Technology: Invest/reinvest in usable instructional tools, including modern technology, to support transformative learning.
Partners: Foster cross-sector collaboration with industry, community, business and post-secondary institutions.
Money: Establish and maintain a strategic plan that sustainably funds science education.
Rating System
Each Essential Element has a number of nestled Items to Rate (a total of 19) which are characterized with a list of two to five indicators. The cross-disciplinary team, led by the Teacher Leader, uses the collaborative processes and procedures developed by MSI to rate each item. Team members provide individual and cross-departmental evidence or examples that support each indicator. Multiple perspectives support constructive dialogue and contribute to the shared understanding of each person on the school team.
Once all evidence has been considered, the team collaboratively uses the rating system to come to a mutual decision on what to rate each item based on their conversations, shared understanding and agreement. The rating descriptors are:
Awaiting Initiation: This item has not been initiated; no indicators are present.
Igniting It: Ignite, Plan, Organize -- Initiative to organize and grow is underway, a plan is being developed.
Building It: Implement, Grow, Transform -- A plan is in place and is being implemented, the item is growing and transforming.
Living It: Sustainable, Strategic, System --The Item is fully activated and sustainable at the school.
Action Plan and
Implementation Development
After the rating is complete, the school has a gauge of how it supports science education. The team follows an action plan cycle to prioritize ideas that support school-wide improvements based on their ratings. The team creates an achievable and customized yearlong action plan and begins implementation. At the end of the year, they revisit the plan, assess changes in the ratings and consider new goals for the following year.
Yearlong accomplishments by Science Leadership School Partners are celebrated at a recognition ceremony at MSI.
The Science Leadership Initiative is made possible in part by The Davee Foundation and the Polk Bros. Foundation.