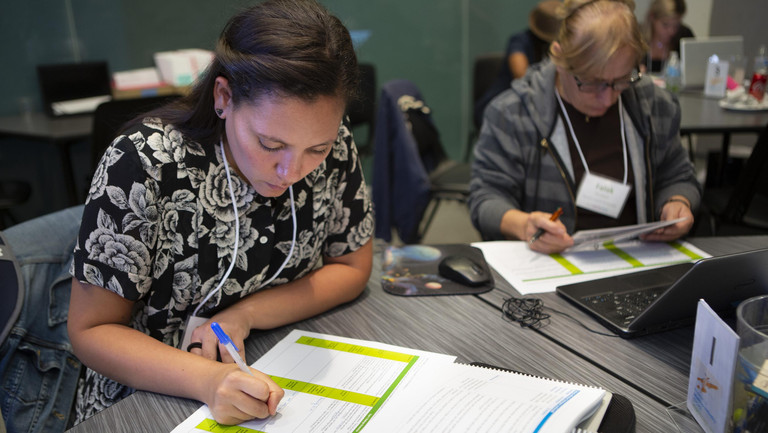 Teacher Leader facilitation, administrator contribution and cross-disciplinary school team cohesion is needed to actively engage and commit to the process and the time it requires.
For the Teacher Leader
Participate: ​Attend three days of summer training and monthly work sessions during the school year at MSI.
Facilitate: Coordinate and lead all program components with a cross-disciplinary school team.
Manage Data: ​Use MSI's digital School Support Tool to manage and organize schools' yearlong tasks.
For the Administrator
Plan: ​Schedule at least 12 hours of meeting time for your school's cross-disciplinary school team.
Require Team Cohesion: Assemble a cross-disciplinary school team and require all to attend and contribute.
Participate: ​Act as an active member of the cross-disciplinary school team and attend one half-day summer training and two evening work sessions at MSI.
For the School
Commit:​ Demonstrate a rigorous commitment to supporting the program components.
Celebrate:​ Participate in the end-of-year recognition event to celebrate and showcase the year's accomplishments. School Partners will highlight their action plans which will serve as models for other schools looking to prioritize science at the whole-school level.
Click here for more information and a full program description (PDF)
The Science Leadership Initiative is made possible in part by The Davee Foundation and the Polk Bros. Foundation.