Gain the knowledge and skills required to enact the NGSS by enrolling in OpenSciEd's Curriculum Launch for 6th-8th grade teachers with the MSI Professional Learning team.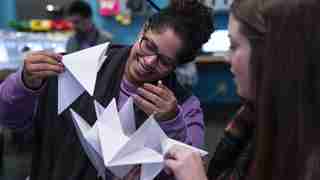 About OpenSciEd Curriculum
The OpenSciEd curriculum is a 6-8th grade free science curriculum that is available online. OpenSciEd creates high-quality, NGSS-aligned science materials and outstanding professional learning support that empowers educators to inspire all students with the beauty and wonder of science. Both Nextgenscience.org and EdReports have given the OpenSciEd curriculum their highest approval ratings. One classroom at a time, OpenSciEd is proving that when given the opportunity to experience a high-quality curriculum facilitated by teachers who have had the professional learning they deserve, all students can excel in science.
About OpenSciEd: Curriculum Launch
This four-day professional learning session introduces teachers to the OpenSciEd materials. As a result of this professional learning, teachers will understand the supports and routines embedded into the OpenSciEd units that align with the shifts called for by the A Framework for K-12 Science Education and the Next Generation Science Standards.
In this professional learning session, teachers will:
Experience phenomena-based learning by engaging with the Anchoring Phenomena Routine from the OpenSciEd curriculum.
Engage in lessons as student learners.
Receive support from the MSI team regarding how to adapt materials to meet the needs of students.
Develop understanding of three-dimensional instruction and assessment.
Learn how to navigate the curricular materials.
By participating in the course, you'll receive:
Materials for teachers to individually participate in the Anchoring Phenomenon routine for one unit in OpenSciEd's curriculum.
Support in navigating OpenSciEd's curricular materials.
ISBE clock hours in Illinois or CEUs in Indiana.