earth and space science
Air: The Atmosphere Outside and Inside Your Classroom
This new course will focus explicitly on the teaching practices that support Next Generation Science instruction.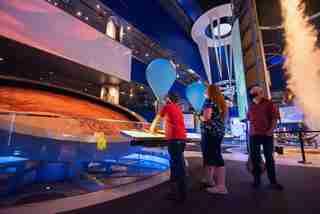 Engage with pedagogical practices that support Next Generation Science instruction in order to facilitate student ownership of their learning. Experience learning situated in lessons that focus on gaining a deeper understanding of climate, atmosphere, and their relationship with the Earth.
This course will consist of 5 in-person days and 4 hour-long, between-course virtual check-ins that will take place between September and April. Throughout the course, teachers will:
Develop their understanding around pedagogical practices that support the type of instruction that is required in an NGSS classroom. (Common to all courses)
Participate in a supported learning community alongside their peers to build content and pedagogical knowledge and skills. (Common to all courses)
Experience phenomena-driven lessons which model three dimensional teaching and learning that supports NGSS appropriate for students in grades 3 to 8. (Common to all courses)
Implement new practices within their classroom and discuss with a virtual professional learning community between course days. (Common to all courses)
Engage with practices that establish and maintain learning environments to support students as they develop ownership of their learning.
Better understand climate patterns and how they are influenced by the interaction of the Earth's spheres.
Analyze local and global data to draw conclusions around real world impacts
NGSS Disciplinary Core Ideas
ESS1: Earth's Place in the Universe

ESS1.B: Earth and the Solar System
ESS2: Earth's Systems

ESS2.A: Earth's Materials and Systems
ESS2.D: Weather and Climate
PS1: Matter and Its Interactions

PS1.A: Structure and Properties of Matter
Next offered
Next session TBA.