Science Minors and Achievers
This youth development program invites teens to learn about science, gain public speaking and leadership skills, and prepare for college and careers.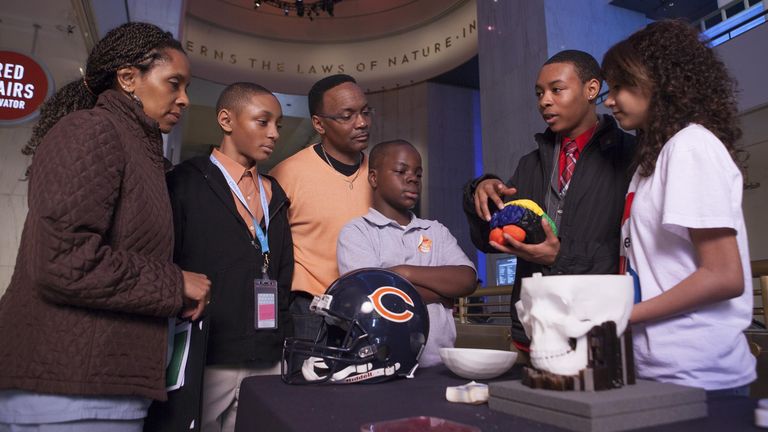 The Science Minors and Achievers program is currently on pause.
We appreciate the impact this program has had for many teens and the tremendous contributions they have made to MSI. We are committed to finding new ways to engage teens in the future.
Are you a past participant in Science Minors or Science Achievers? Please reach out to Jaclyn Carmichael, director of youth programs and pathways, to take part in a short virtual interview about your experience.
About the Program
The Science Minors and Achievers programs provide Chicago-area youth ages 14 to 18 with science education and training and the opportunity to conduct science experiments with Museum guests. Teens in the Science Minors program gain a better understanding of science, a first-hand look at science careers, and public speaking skills. Those who continue on as Science Achievers deepen their involvement, gaining leadership skills while preparing for college and careers.
Skip carousel
I feel like I'm helping kids realize that science is really cool. And I hope that maybe I'm inspiring them to go into science in the future. Tyrone
I love learning about science in a place that isn't a classroom! Bryanna
The Science Achievers program is invaluable. You'll have opportunities that you won't find anywhere else. Zachary
I don't think I'd be who I am without Science Achievers. Goldene
MSI is grateful to the recent supporters of the Science Minors and Achievers program, including the Daniel F. and Ada L. Rice Foundation, JCCC Foundation, Max Goldenberg Foundation, Mazza Foundation, Peggy A. Montes and Takeda Pharmaceuticals.