Black Creativity Junior Science and Art Cafes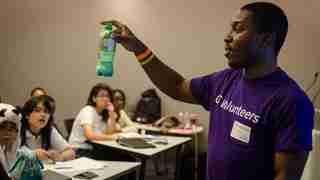 Discover what it's really like to be a scientist, engineer or artist!
African-American STEAM professionals share their careers with students through hands-on activities and meaningful conversations. Each 30- or 45-minute session is an exciting opportunity for students to hear personal stories from a scientist, artist or engineer who looks like them and dive deeper into the possibility of pursuing a pathway into STEAM.
This program is best for students in grades 4 through 8. The capacity for in-person sessions is 35 students. There is no additional charge for these sessions, but they must be reserved and your school's enrollment must be at least 51% students of low income.
Please email  Dulce Enriquez or call (773) 753-1766 to learn more about booking Jr. Science or Art Café sessions.