2021 submissions are open!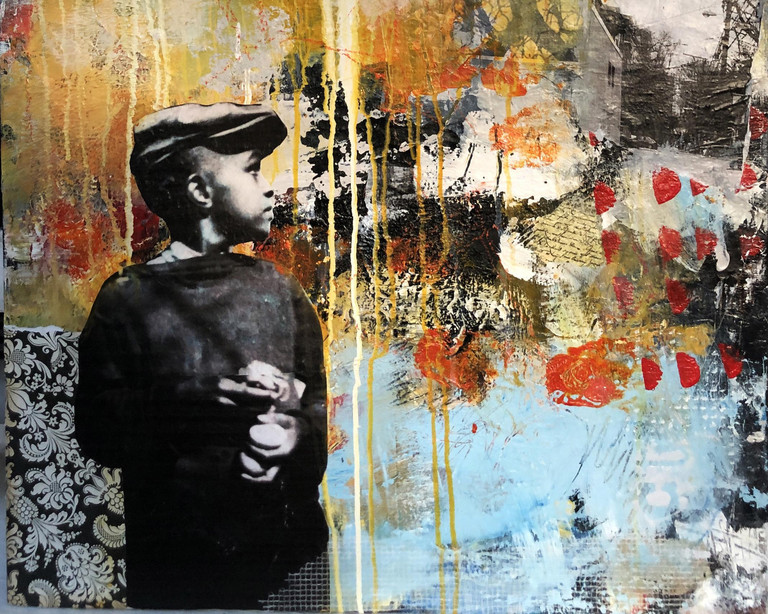 For 50 years, the Museum of Science and Industry has hosted the nation's premier exhibition of African-American art. This annual show presents more than 100 works of art from professional and emerging Black artists from around the world.
Please review the entry guidelines below, then complete the submission form linked at the bottom of the page.
Medium
Contemporary works created in any visual medium are accepted, including:
Architecture + Design • Ceramics • Digital Art • Drawing • Mixed Media • Painting • Photography + Video • Print Media • Sculpture • Textiles
The Exhibition may not be able to accommodate artworks with special technical or spatial needs. The artist may be required to provide any special installation equipment or materials for accepted works. Accepted work must be finished, dry, and ready for professional installation.
Eligibility
General Category
Black artists over 18.
Teen Category
Black artists who are 18 or younger, OR currently enrolled in grades 9-12 (or the equivalent).
Specifications
Each artist may submit up to four original works for consideration. Work must have been completed in the past three years and not have been selected for any previous Black Creativity Juried Art Exhibition.
How to Apply
Jurying will be from digital images* only. Submissions must include one (1) high-resolution digital image of each complete individual artwork in JPEG format. Images should be 9" at the widest/tallest dimension (or 2250 pixels) with a resolution of NO LESS THAN 250 ppi. Optimal image size is 9" x 6" (2250 pixels by 1500 pixels) and NO LARGER THAN 5MB. Images should accurately reflect the color and detail of each piece and file names must correspond with the artwork titles listed on the entry form. Images of three-dimensional objects should illustrate the height, width and depth of the artwork. Images should be of good quality. MSI reserves the right to reject submissions that present images of poor quality.
* Applicants whose art medium is Video may provide a hyperlink to the relevant work on YouTube, Vimeo or on a personal website. Video for submission judging will not be accepted for other types of media entries.
Fees
Fees are non-refundable, and must be remitted with online entry form.
| | |
| --- | --- |
| General entry | $50 |
| Reduced General entry | $25 with student ID or other proof of educational status |
| Teen entry | Free |
Awards
A panel of jurors reviews and selects the artwork to be exhibited and awards the prizes. All artists whose work is featured in the 2021 Juried Art Exhibition will receive a certificate of recognition.
General Category
First Place: $3,000
Second Place: $2,000
Third Place: $1,000
Teen Category
First Place: $500
Second Place: $300
Third Place: $200
Deadline
General and Teen Category: January 3, 2021
Notification
Artists will be notified via email whether or not the jury selected their submissions. Please make sure your contact information is accurate. Accepted Works Instructions and a loan agreement will be sent along with your notification of acceptance into the Juried Art Exhibition.
Accepted Works
All works accepted for the Juried Art Exhibition must be ready for professional installation and presentation in accordance with the Accepted Works Instructions. Wall-mounted pieces must have adequate framing and quality hanging hardware. If submitting audio or video the artist is responsible for supplying the appropriate media player to present the work. Any artwork that is not ready for immediate installation will not be included in the Exhibition.
Participating accepted artists are responsible for delivery and pickup of their works on the dates specified in the schedule below. All shipped works must be packed in sturdy, reusable container(s) and include clear instructions for packing, shipping and installation. MSI is not liable or responsible for any damage to work(s) that occurs during packing, unpacking, or repacking of works or for any damage that occurs during shipment or transit of the work. MSI reserves the right to refuse any work delivered in inadequate packaging or received in damaged condition. Please take all necessary precautions to ensure the safety of your work.
Publicity
By submitting a work for inclusion in the Juried Art Exhibition, the artist agrees that the Museum is permitted to use, edit, reproduce, publish, transmit and display images or footage of the artist's work(s), including those submitted by the artist as part of their entry, in films, video, signage, mailing, programs, online image gallery, and other forms of media including social media for the promotion and display of the 2021 Juried Art Exhibition, and other purposes as the Museum may determine, including promotion and fundraising for the Museum. The Museum will not be responsible for the unauthorized use of the images or footage by third parties.
Sales and Commissions
All sales inquiries will be forwarded directly to the artist. No commission will be taken from sales. Work does not have to be for sale to be exhibited in the Juried Art Exhibition, but cannot have already been sold to a third party.
Conditions
MSI reserves the right to disqualify entries that, upon receipt, differ markedly from submitted images or are not ready for professional installation and presentation.
All works must remain in the Juried Art Exhibition for the duration of the Exhibition. MSI is not responsible for any works left after the scheduled pick-up date.
MSI will not be responsible for minor wear and tear resulting from normal handling.
Submission of your entry will be understood to indicate your agreement with these terms and conditions. Accepted artists will be required to sign a printed contract agreeing to these terms.