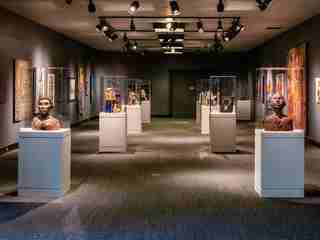 For 50 years, the Museum of Science and Industry has hosted the nation's premier exhibition of African American art. The Juried Art Exhibition is a pillar of the Museum's Black Creativity program, which showcases African American achievement in a variety of scientific, artistic, and technological fields. Each year, the Black Creativity Juried Art Exhibition presents more than 100 works of art from professional and emerging Black artists from throughout the U.S.
2023 Awarded Works
Adult Category
Teen Category
Best in Show — Kaima Akarue, This can't be the only way
Best in Show — Kyla Henderson, Intertwined, Photography
Second Place — Adonte Clark, Lead by Example
Second Place — Amber Smith, We Got Soul and Funk
Third Place — Candace Hunter, BLACK MEN/WHITE SHIRTS, #1 (Grieving)
Third Place — Tianna Bond, Pieces of Me
Honorable Mention
Malik Hayward, A Royal Virtuous Woman
Clarence Heyward, George
Clarence Heyward, God is Dope
Want more?
Sign up to receive updates on Black Creativity programs.