2023 Black Creativity Gala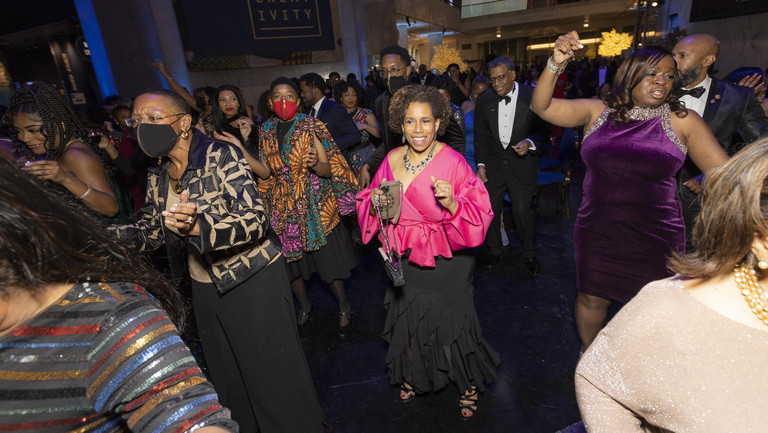 A celebration of Black innovation, wellness and compassion.
Museum of Science and Industry, Chicago
Saturday, February 18, 2023
6 - 11 p.m.
The Black Creativity Gala is MSI's annual celebration of the rich contributions of Black creators, innovators, artists and geniuses. For more than fifty years, we have amplified the inherent dignity of Black lives and the importance of leadership in STEAM fields through Black Creativity exhibitions, events and programming.
In tribute to this legacy, MSI becomes the hottest spot in town for one night every year, as leaders from the worlds of industry, education, philanthropy and civics come together to dine, dance and demonstrate the power and possibility of the Black community in Chicago and beyond. We hope you can join us this year.
The Allstate Insurance Company is the presenting sponsor for the 2023 Black Creativity Gala. Chaired by Senior Vice President of Sourcing and Procurement Solutions for The Allstate Insurance Company Cheryl Harris and emceed by NBC5 Chicago Meteorologist Iisha Scott, this event is a heartfelt celebration of the historic precedents and current initiatives that make it possible for Black youth to pursue educational opportunities and careers in science, technology, engineering, mathematics and the arts.
The Black Creativity Juried Art Exhibition, Innovation Studio, Career Showcase, Family Day and many more programs at MSI gather great minds together to support our youth as they make the journey to their chosen careers and paths.
Creativity is part of everything that we do at MSI and we believe our role is to help inspire the inventive genius in everyone. By becoming a part of Black Creativity at MSI, you will help give young people the tools and confidence to find their own futures.
We look forward to welcoming you to this spectacular annual celebration. If you'd like to learn more or get involved, please contact Lisa Hoffer at 773-753-1391 or email blackcreativitygala@msichicago.org.
Tickets and Sponsorship
Individual tickets as well as sponsorships can be purchased online.
Header photo: Broadie, Mind Growth, 2022, Digital Art, Courtesy and ©Broadie