Your MSI transformed for one night only.
Thank you for joining us at this dazzling affair and helping raise more than $1,300,000 for the Museum of Science and Industry.
Highlights of this spectacular event included a one-of-a-kind drone show presented by event partner Sky Elements.
By supporting the Columbian Ball, you have invested in future generations of science leaders and innovators, helping to inspire the inventive genius in everyone.
We can't wait to welcome you the Columbian Ball again next year.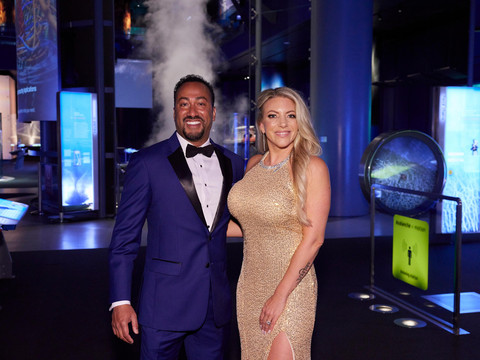 A note from Columbian Ball 2023 Co-Chairs Pat and Kelly Basu:
Thank you for all who helped MSI celebrate its 90th anniversary at the Columbian Ball. MSI is both a world class museum and a testament. It is a testament to humanity's quest for knowledge and excellence; to our determination and courage; and to our ability to work together to achieve what we once thought was impossible. Thanks to your support, millions who interact with MSI in the future can have their knowledge kindled, their imagination awakened and their hope restored.
It's not too late
There's still time to be part of the 43rd Annual Columbian Ball. Make a donation today in honor of MSI's 90th Anniversary and a bold, bright future of discovery.