Virtual Heart App Press Kit
MSI OFFERS VIRTUAL HEART APP
New MSI app lets users explore internal, external views of a realistic, beating heart
CHICAGO (Feb. 24, 2012)—In the spirit of American Heart Month, get a heart pumping in a whole new way with the Museum of Science and Industry, Chicago's (MSI) Virtual Heart app, available now for free in the iTunes App Store.
The Virtual Heart, designed for the iPad, was developed in collaboration with XVIVO, the scientific visualization company that created the computer generated images in the Museum's 13-foot Giant Heart in YOU! The Experience—a dramatic and unprecedented 15,000-square-foot exhibit at MSI that explores what it means to live a healthy and vital life in the 21st century.
Featuring the same highly realistic visual elements as YOU!'s Giant Heart, the Virtual Heart app invites users to explore multiple views of the human heart: an external view and three internal views that realistically depict the heart's valves, blood flow and electrical system. Offering an internal journey into the human heart most people may not have ever experienced, users can choose to turn on labels that identify different areas of the heart's structure and can slide their finger up and down the screen to change the view of the heart from external to internal. Red and blue color streams visualize blood flow, and flashes of light highlight the heart's electrical system.
The Virtual Heart is not static, but is constantly beating just like a real human heart. Users can choose to have the heart beat as low as 30 beats per minute or as high as 180 beats per minute by pressing on either the up or down arrows located in the upper, right-hand corner of the screen. As you manipulate the app, labels and facts about the heart and the cardiovascular system are available to increase learning.
"The Virtual Heart app is fun and easy to use tool for teachers, parents and kids," said Steven Beasley, MSI's director of digital media. "Today, tools like this are great for reaching new audiences outside the Museum's walls and creating one-of-a-kind science learning experiences that can happen anytime."
The Giant Heart at MSI's YOU! The Experience exhibit was created in collaboration with the following partners: Thinc Design, XVIVO Scientific Animation, BBI Engineering, Seventh Sense, Maltbie, and Milgo-Bufkin.
See the Virtual Heart iPad app at the iTunes Store »
About YOU! The Experience
YOU! The Experience, a permanent exhibit at the Museum of Science and Industry, Chicago, is a celebration of the body, mind and spirit that explores our personal health and well-being. YOU! showcases the extraordinary workings of our bodies, the choices we make, the environment in which we live, and the role of medical technology. The centerpiece of the exhibit is the 13-foot tall virtual Giant Heart, which guests can make beat in time with their own. This exhibit is included in Museum general admission.
About XVIVO
XVIVO's internationally-acclaimed animation studio creates compelling visual productions for pharmaceutical, medical device and biotech companies, medical advertising and medical education agencies, educational institutions, associations, conferences, museums, publishers and broadcast companies. With their in-house medical expertise, XVIVO is able to translate complex medical information into productions that are both scientifically accurate and visually compelling. From script-to-screen, XVIVO provides custom education and communication services featured in The New York Times and WIRED, at TEDMED 2011, and as a partner with prestigious institutions like Harvard University and Stanford University.
About the Museum of Science and Industry, Chicago (MSI)
The Museum of Science and Industry, Chicago (MSI), one of the largest science museums in the world, offers world-class and uniquely interactive experiences that inspire inventive genius and foster curiosity. From groundbreaking and award-winning exhibits that can't be found anywhere else, to hands-on opportunities that make you the scientist—a visit to MSI is where fun and learning mix. Through its Welcome to Science Initiative, the Museum offers a variety of student, teacher and family programs that make a difference in communities and contribute to MSI's larger vision: to inspire and motivate children to achieve their full potential in science, technology, medicine and engineering. Come visit and find your inspiration! MSI is open 9:30–4 p.m. every day except Thanksgiving and Christmas Day. Extended hours, until 5:30 p.m., are offered during peak periods. The Museum is grateful for the support of its donors and guests, who make its work possible. MSI is also supported in part by the people of Chicago through the Chicago Park District. For more information, visit msichicago.org or call (773) 684-1414.
# # #
Press Photos
To save an image, click the photo to open the full-size version in a new window. Then right-click on the full-size image and select "Save Picture As" to save to your hard drive.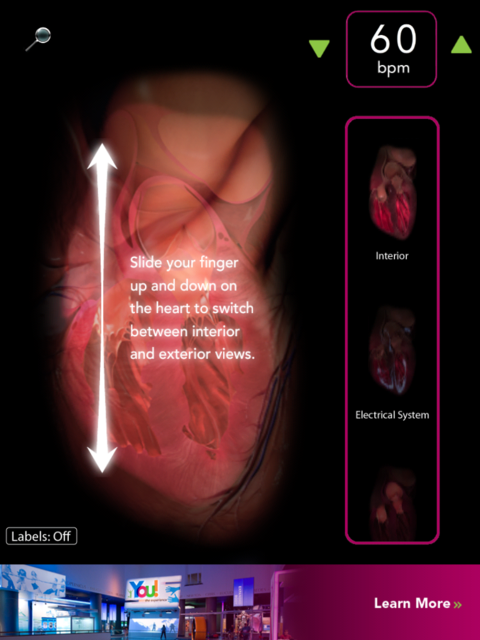 Featuring highly realistic visual elements, the Virtual Heart app invites users to explore multiple views of the human heart.
[Museum of Science and Industry, Chicago]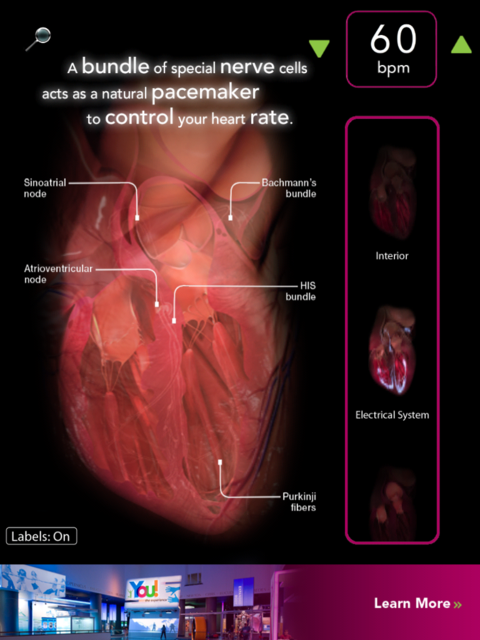 Users can choose to have the heart beat as low as 30 beats per minute or as high as 180 beats per minute.
[Museum of Science and Industry, Chicago]
Images presented here are for the express use for promoting the Museum of Science and Industry. All images must be properly credited. Images may not be reproduced by third parties without express written permission from the Museum of Science and Industry.