event - Saturday, September 16, 2023
Inventive Genius Day
INVENTIVE GENIUS DAY INSPIRES THE FUTURE OF STEM AT THE MUSEUM OF SCIENCE AND INDUSTRY
First-Ever Event Will Engage Chicago Youth to Find Solutions to Real-World Challenges
CHICAGO (September 7, 2023) - The Museum of Science and Industry (MSI) is set to host its first-ever Inventive Genius Day, a one-of-a-kind event aimed at fostering gender diversity and persistence in STEM fields among young girls and gender-expansive youth.
Taking place on Saturday, September 16, the public event will bring together 400 youth from the South and West sides of Chicago where they will propose creative solutions to real-world challenges, such as flooding and microplastic pollution. Youth groups participating will receive free busing and admission to the Museum. The event is supported by a generous gift from business leader and MSI Trustee Ann M. Drake.
"Research has shown that 'stereotype threat' can create immense social pressure for young girls and gender-expansive youth, leading them to opt-out of STEM pursuits when faced with challenges," said Dr. Jessica Chavez, the Ruth D. and Ken M. Davee Vice President of Education and Chief Learning and Community Partnership Officer at the Museum of Science and Industry. "Inventive Genius Day is one part of the Museum's Girls in STEM program, which is an integral part of our commitment to advancing STEM education, and it recognizes the pressing need to provide continuous support to girls and gender-expansive youth in STEM spaces."
Inventive Genius Day offers a safe and supportive environment for risk-taking, cultivating STEM efficacy, and nurturing persistence in STEM fields. During the event, participants ages 7 to 14—a critical age range where STEM participation often sees a sharp decline—will learn about and develop ideas that aim to solve three intriguing challenges, each rooted in real-world problems: urban flooding, microplastics, and food allergies.
The heart of the day will follow the "learn, design, invent, and pitch" format, where young participants will have the opportunity to present their ideas on a stage with a microphone and lights, encouraging risk-taking and boosting self-confidence. Dedicated science experts and MSI staff will be on hand to support and guide the youth, offering valuable insights and aligning their ideas with solid scientific principles. Additionally, the Museum will host STEM experts stationed throughout the event, eager to share their own experiences of invention and innovation.
The success of Inventive Genius Day relies heavily on the support of dedicated volunteers, and MSI is actively seeking science content experts to contribute to this transformative experience. These volunteers will assist youth with the challenges, guiding them with supportive questions and providing scientific knowledge to enhance their ideas. Furthermore, volunteers will share their own career stories, offering tangible examples of how innovation and perseverance can lead to meaningful achievements in STEM fields.
For more information and to get involved as a volunteer, please visit the Inventive Genius Day webpage.
About the Museum of Science and Industry, Chicago
The Museum of Science and Industry (MSI) offers world-class and uniquely interactive experiences which inspire the inventive genius in everyone. As one of the largest science museums in the world, from groundbreaking and award-winning exhibits to hands-on opportunities — a visit to MSI is guaranteed to connect fun and learning. MSI is committed to offering comprehensive educational programs — for students, teachers, and families — that make a difference in local communities and contribute to MSI's larger vision: to inspire and motivate children to achieve their full potential in STEAM: science, technology, engineering, art and math. The Museum is grateful for the support of its generous donors and guests, who make its work possible. MSI is also supported in part by the people of Chicago through the Chicago Park District. For more information, visit msichicago.org or call (773) 684-1414.
Press Photos
Click "Download Image" to open the full-size version.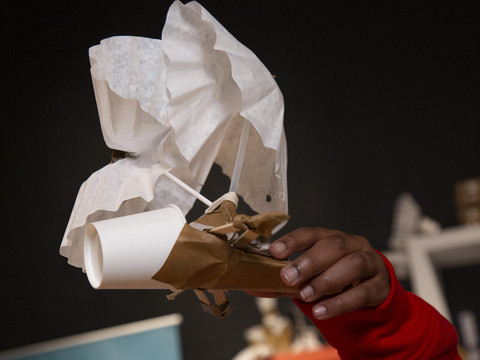 At Inventive Genius Day, girls and gender-expansive youth will come to MSI to learn about real-world problems, design and build solutions, and pitch their inventions at this one-of-a-kind event. [Photo: Museum of Science and Industry, Chicago]