Every science hero has an origin story.
A love of science starts at a young age. Science Hero Academy is a safe space for young children to play, investigate and experiment along with a trusted adult. This weekly hour-long class gives children and their caregivers exclusive access to our Idea Factory and a variety of science activities. Then explore MSI for the rest of the day: registration includes both Museum Entry and parking on class days.
Let your child lead the way as you experiment, discover, test ... and become Science Heroes. This program explores six science process skills—observe, classify, measure, communicate, predict and experiment—used in every branch of science and important to begin developing early. Your preschooler can start today!
For 2- to 5-year-olds (and caregivers). See details, dates and registration below.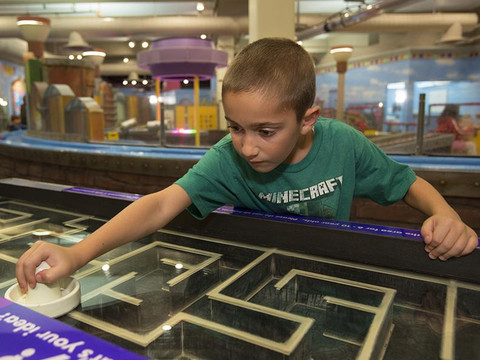 For 2- to 5-year-olds (and caregivers)
Registration
Tuesdays at 9:45 a.m. for seven weeks
September 13 – October 25
$150 ($135 for MSI members)
Includes one child age 2-5 and one caregiver, plus parking and Museum Entry on class dates.
Science Hero Academy is designed for both the child and caregiver. Plan to attend the entire event together.
Wear clothes that can get wet. The Idea Factory has a large-scale water system that children can interact with.
Questions?
For more information about Science Hero Academy, just contact us here.
What Else?
More to explore