Stroll the cobblestone streets of turn-of-the-20th century Chicago and enjoy the timeless delights on Yesterday's Main Street.
It's the next best option for time travel until your flux capacitor comes online. A detailed 1910 Chicago street scene is here for you to explore. Window shop your way down the sidewalk, catch one of those newfangled "moving pictures" and savor this nostalgic sojourn with a treat in the ice cream parlor.
Enjoy that timeless ice cream treat even more
after seeing a vintage dentist's office.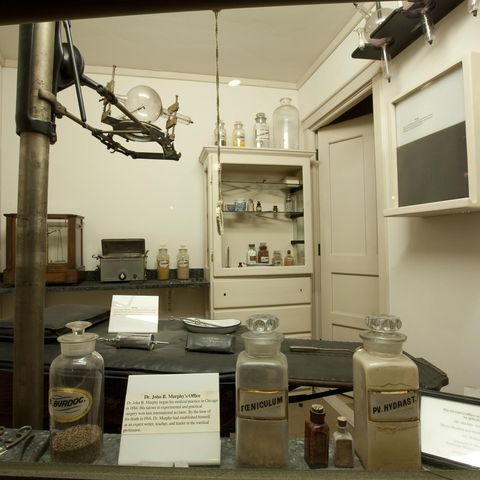 WALK OF AGES
Pastimes of Times Past
Admire the latest fashions on display in the windows of Lytton's, Chas. A. Stevens & Co. and the Gossard Corset Shop. Not familiar with these names? Other businesses on the block, including Marshall Field, Jewel and the Berghoff may ring a bell. Take in a silent movie at the Nickelodeon, and don't "23 skidoo" out of 1910 without heading to Finnigan's Ice Cream parlor for a sweet treat.
Skip carousel
An exhibition that shows Chicago in the early days complete with cobblestone streets and an actual vintage movie theatre complete with Charlie Chaplin movies. Torres Consulti
There's a surprising little recreation of cobble street with storefronts from the turn of the century. Very good ice cream shop inside. globetrekr Los Angeles, California