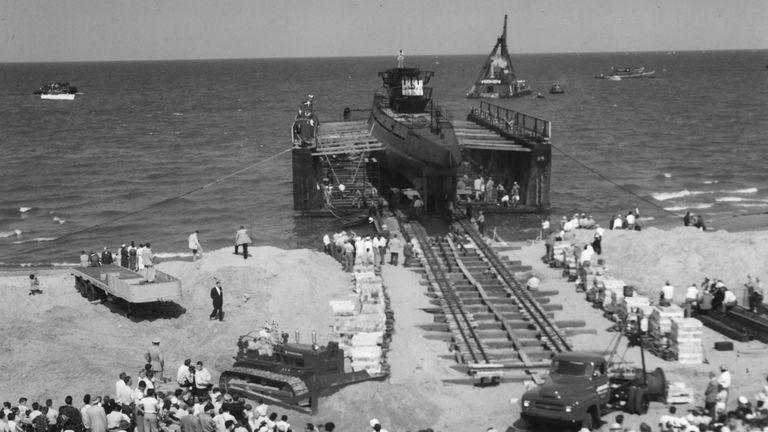 Like the capture and salvage efforts, bringing the U-505 to Chicago proved a monumental undertaking. On May 15, 1954, a tugboat began towing the sub from Portsmouth, New Hampshire, where she was being stored. The tow covered 3,000 miles — through 28 locks on the St. Lawrence Seaway, and through four of the five Great Lakes.
The U-505 arrived in Chicago on June 26, 1954, only to face another major hurdle: an 800-foot overland trip from Lake Michigan to the Museum. The task required extensive planning to cross Lake Shore Drive (now DuSable Lake Shore Drive) without destroying the pavement and tying up traffic. Engineers designed an elaborate rail and roller system to move the heavy sub out of the water and over the land. The city closed Lake Shore Drive the night of September 2, 1954 to allow the sub to cross. It took another week for the sub to complete its journey from the road to the Museum.
On September 25, 1954, the U-505 was dedicated as a war memorial and a permanent exhibit at the Museum of Science and Industry. In 1989, the sub was also designated as a National Historic Landmark. The U-505 is the only Type IX-C U-boat in existence today.