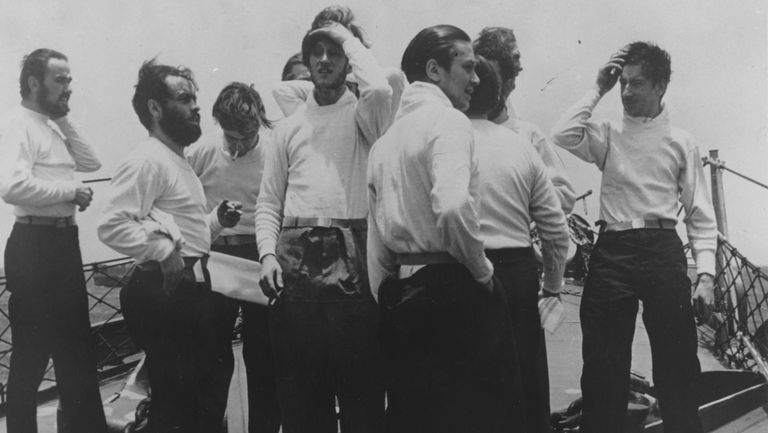 Life in Captivity
Only one German sailor, Gottfried Fischer, perished during the capture of U-505. The Task Group rescued the remaining 58 crew members from the sea — a far more agreeable fate than most U-boat sailors experienced. USS Guadalcanal transported the men to Bermuda, where they were held for several weeks to await stateside preparations for their POW camp in Ruston, Louisiana.
Camp Conditions
In general, the U-505 captives were treated very well at Camp Ruston. However, they were isolated from other prisoners, and the U.S. Navy confiscated all letters they attempted to send out. This treatment did not comply with the Third Geneva Convention (1929), which stated that POWs must be able to inform their next of kin and the International Red Cross of their capture.
Because it was so important to keep the U-505 capture a secret, Admiral Ernest J. King, Chief of Naval Operations and Commander in Chief of the U.S. Fleet, authorized and directed these special conditions. By August 1944, the German Navy had informed the relatives of the U-505 crew that the men must be considered dead, as they were long overdue.
Attempting to Get Word Out
The U-505 POWs made several futile attempts to spread word of their capture. One night, they created balloons out of cellophane bags that they filled with hydrogen gas, which they had produced by mixing some cleaning chemicals together. After decorating the balloons with paper Iron Crosses and "U-505 lives!" the men released them into the air and watched them float over the camp's perimeter fences.
POWs Released
The U-505 prisoners remained at Camp Ruston until the end of the war, when the process of repatriating them back to Germany began. The last of the captives returned home in 1947.