A World War II terror of the Atlantic was about to meet its match.
On June 4, 1944, a German submarine was prowling the waters off the West African coast for American and Allied ships. Part of a U-boat fleet terrorizing the Atlantic, this submarine was known as U-505. But on this day, the U-505 had just become the hunted.
Dive In
An Epic Underwater Story
For weeks, a U.S. Navy Task Group had tracked a shadowy U-boat. Despite a crack team and the latest technology, the Task Group was unable to pinpoint their elusive prey. Low on fuel, the frustrated captain had just called off the search when … there was something on the sonar.
Finding and destroying the sub would save Allied lives and supplies; capturing it could help win the war by cracking the U-boat mystery—but only if the Germans thought the sub had sunk. Securing the U-505 and keeping the capture secret was the key.
How do you hide something the length
of a city block, weighing three times
the Statue of Liberty?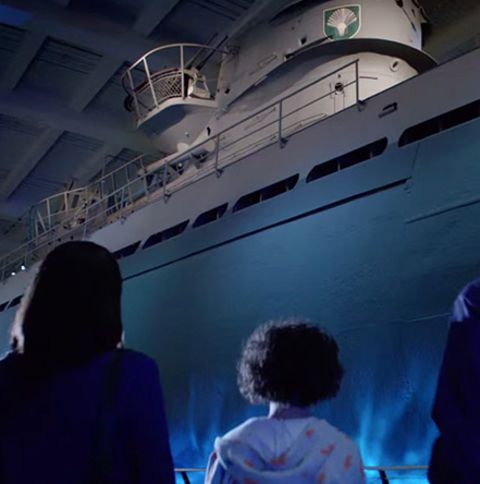 Experience the only German sub in the U.S. in this dramatic exhibit and national war memorial to American sailors.
The U-505 submarine has amazed Museum guests since 1954, and now has a captivating exhibit to match its scale and dramatic capture. How did U-boat technology work? What was life like on the sub? How was the capture kept secret? This riveting wartime story comes alive.
The exhibit is accessible to wheelchairs, Segways and strollers. Optional on-board tours have limited accessibility. See accessibility notes.
Skip carousel
There wasn't a wave in the ocean. It was calm, and the Chatelain came over the radio; it says we have a sub contact, and we're getting ready to attack. Then all hell broke loose. Don Carter World War II veteran and radio communications signalman on the USS Guadalcanal
Kids will enjoy the dive trainer, periscope-navigation exercises... not to mention a re-created sub environment that shows just how hard it was to live in such a tiny space. Elizabeth Diffin Chicago Parent
Went to this museum just to see the submarine U-505. They didn't let me down. Fantastic exhibition, and what an amazing story! Book the onboard tour ahead of time. BigBirger Stockholm, Sweden
What Else?
More to explore