75 facts for 75 years
75 Facts About the U-505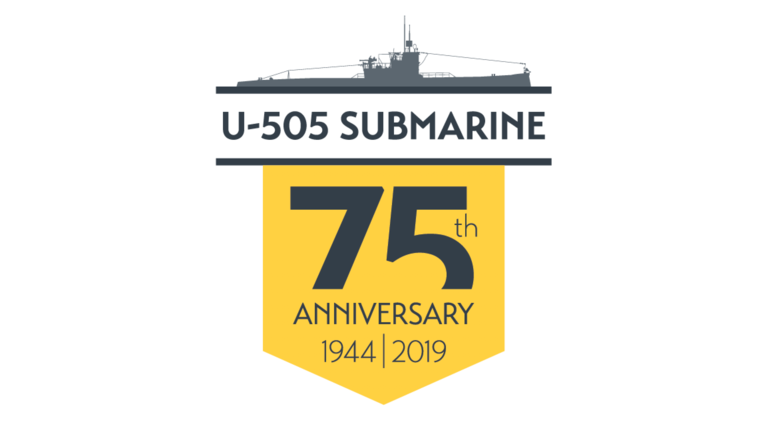 Life on Board
U-boat submariners had a 75% casualty rate, the highest of all German forces during the war.
The U-505 had two bathrooms, one of which was used to store food for the first part of the voyage.
For the entire two months at sea, the crew never bathed and instead cleaned themselves by swabbing with alcohol.
Among the 12 tons of food loaded into the U-505, 108 pounds of that was chocolate.
U-505 food provisions were stored under bunks and meat was hung from pipes overhead.
Lemons and limes were carried to ward off scurvy, a disease resulting from a lack of vitamin C.
Operatic songs were popular with the U-505 crew, and so was English jazz. They would play jazz records onboard.
Freshwater supplies at sea were obtained from a saltwater distilling apparatus. The system could provide 63.5 gallons a day, the use of which was limited to replacement of battery water and drinking and cooking purposes.
Greenhorns, new U-505 crewmembers, had to sing three operatic songs over the boat's intercom system. The worse they sang, the more jubilant the crew became.
The average age of the U-boat crew was 20 years old.
Only three of the 56 enlisted men in the U-505's crew had ever served in a submarine before.
Fifty-nine men lived and worked in a he pressure hull no bigger than a subway car.
Fresh water is rationed to half a bucketful per day.
Only 35 bunks were on board the U-505, and at the time of the vessel's capture, there were 59 sailors. This meant that most of the men had to "hot bunk," or take turns sleeping in beds still warm from the use of a fellow crew member.
The "uniform of the day" for a sub in the tropics was sneakers and a pair of drawers.
During the warmer months, temperatures in the engine room of the U-505 would could exceed 100 degrees Fahrenheit.
The smell of the diesel engines permeated the U-boat, and the food typically tasted like diesel as well.