Get a unique look into the Pixar process, and explore the science and technology behind these beloved animated films and their characters.
The Science Behind Pixar is an interactive exhibition showcasing the science, technology, engineering, and math (STEM) concepts used by the artists and computer scientists who help bring Pixar's award-winning films to the big screen.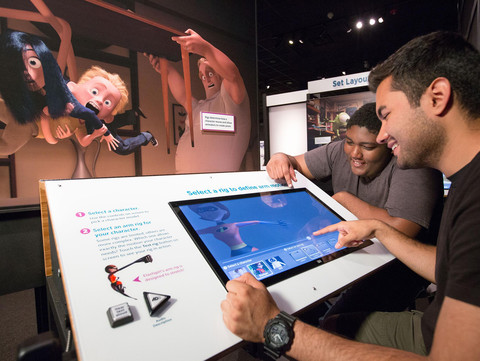 behind the magic
How infinity gets made
With more than 40 interactive elements, the exhibition breaks down eight steps of the filmmaking process—an unparalleled view of the techniques and concepts used at Pixar every day. Participate in fun, engaging hands-on activities, listen to firsthand accounts from members of the studios' production teams, and even come face-to-face with re-creations of your favorite Pixar film characters, including Buzz Lightyear, Dory, Mike and Sulley, Edna Mode, and WALL•E!
When you think about it,
one elbow can do a lot of acting.
Especially if it bends both ways.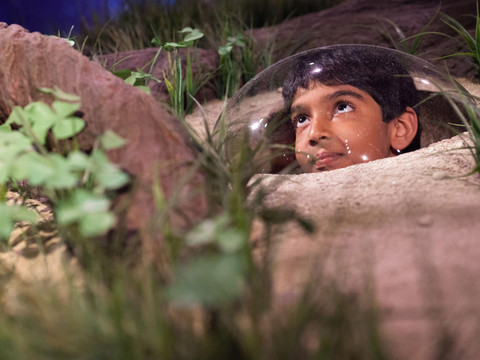 Angles, numbers and physics (oh, my!)
Building character(s)
Toys that are alive. Scaring as an industry. Flying a beloved home with balloons. Learn what it takes to animate such wildly imaginative stories. From modeling and rigging to lighting and rendering, you'll use videos, hands-on activities, and computer interactives to follow Pixar's production pipeline and see how your favorite characters and settings are brought to life. It'll give you a new appreciation of the biggest moments and subtlest details of your favorite films and characters.
Tickets
This exhibition is not included in Museum Entry, and requires an additional, timed-entry ticket.

Adults and seniors: $14
Children (ages 3-11): $11
MSI Members: $7
Skip carousel
You'd be hard pressed to ... not come away more than a little gobsmacked. Steve Johnson Chicago Tribune
In short, it's how the studio makes us laugh and cry with science. Colin Covert Minneapolis Star Tribune
The story inspires the technology, but then the technology informs the art side of things. Pete Docter Writer/director ("Up," "Inside Out," "Monsters, Inc.")
The selfish part [of mounting the exhibit] is we want to keep hiring the best and brightest kids who know how to blend math and science and art together. Tony DeRose, Sr. Pixar senior scientist
The Science Behind Pixar was developed by the Museum of Science, Boston in collaboration with Pixar Animation Studios. ©Disney/Pixar. All Rights Reserved. Used Under Authorization.


Local sponsor