Travel back in time to the city forever preserved in Pompeii: The Exhibition.
Pompeii, a Roman city destroyed by nature more than 1,900 years ago, was preserved in a volcanic time capsule after the catastrophic eruption of Mount Vesuvius. The city, fixed in time, provides a glimpse into what life was like in ancient Rome.
Pompeii: The Exhibition brings you to the bustling commercial port and trading center that once was Pompeii. Explore the treasures, marble and bronze sculptures, jewelry, gladiator armor, weapons, ancient Roman coins, and full body casts of the volcano's victims.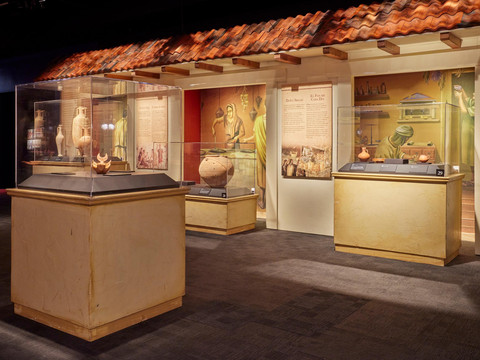 Immersive multimedia experiences take you to Pompeii's amphitheater floor for a holographic gladiator display or to Mount Vesuvius for a 4D eruption simulation. Archaeological details present a unique record of Pompeii's industrial life. Marvel at more than 150 precious artifacts that bring to life how people in this ancient city lived, loved, worked, worshipped and found entertainment.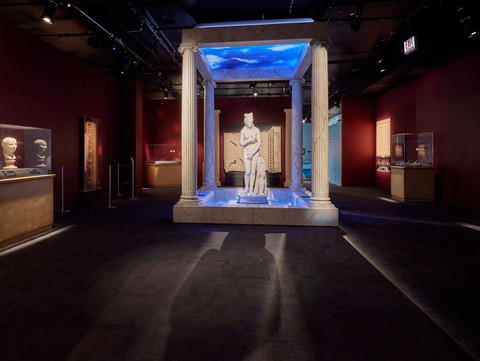 additional ticket required
Tickets
Pompeii: The Exhibition is not included in Museum Entry and requires a separate, timed-entry ticket. Add this ticket to your order after selecting your Museum Entry date and time.
Adults (age 12+) $18
Children (age 3-11) $14
Members (join today) $9
Annual Fund members (learn more): FREE
Pompeii: The Exhibition is open through January 15, 2024.
Pompeii: The Exhibition contains themes of natural disaster and death, including the display of body casts. A gallery within the exhibition—which may be bypassed—contains adult content, themes and artifacts which may not be suitable for all guests.