Marvel: Universe of Super Heroes tickets have completely sold out for all dates.
The largest exhibition celebrating the Marvel Universe has landed at MSI.
Marvel: Universe of Super Heroes celebrates Marvel history with more than 300 artifacts including original comic book pages, sculptures, interactive displays, and costumes and props from Marvel's blockbuster films. Examine the origins of iconic characters such as Spider-Man, Black Panther, Hulk, and Captain Marvel and see how they have evolved alongside society over the past 80 years, making these characters a pop culture mainstay.
Marvel: Universe of Super Heroes runs through October 24.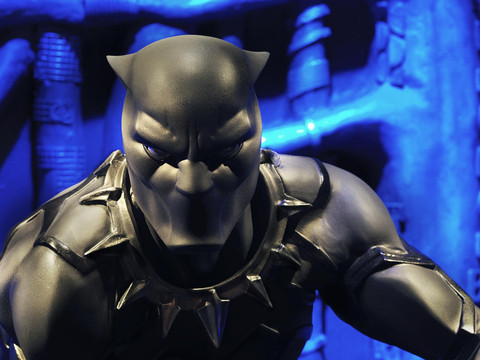 eighty years of marvel
Enter the Universe
Marvel: Universe of Super Heroes immerses you in the Marvel Universe, assembling two galleries full of unique artifacts and experiences for you to explore. See the first Marvel comic published in 1939, as well as rare original covers and artwork making their exhibition premieres at MSI. Get up-close with the amazing detail of set-worn Marvel Studios costumes. Experience set pieces like Tony Stark's lab and the mirror dimension of Doctor Strange. Take pictures with life-size Marvel characters including Black Panther, Spider-Man and Ms. Marvel.
Spellbinding moments for both the
casual fan and the true believer.
Tickets for all remaining dates have sold out.
Tickets
Marvel: Universe of Super Heroes is not included in Museum Entry. A separate, timed-entry ticket must be added to your order after you select your visit date and number of guests.
Also: Special Evening Hours
On select Thursday through Sunday evenings, Marvel: Universe of Super Heroes will be open for special exhibition-only hours. The rest of the Museum will be closed.