The Idea Factory gives the youngest MSI guests a laboratory for their own scientific investigations … especially ones calling for 3,000 gallons of water.
Young scientists age 10 and under (and their families) are invited to a research facility built just for them, chock full of opportunities to test and observe theories of construction, simple machines, light, magnetism, air pressure and more. Might one of those tests require having a massive Water Spectacle? Eureka!
Concepts at play revolve around
four basic shapes: cubes, spheres,
tetrahedrons and cylinders.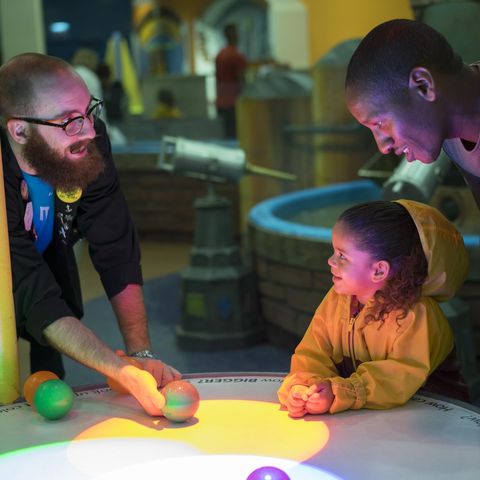 The youngest guests can test toy truck speeds on differently shaped roads and zoom spheres across the room in air tubes. Older siblings can lift heavier shapes with a crane to test weight distributions. They'll all agree on the Water Spectacle, a hydrodynamic playset for spraying, splashing and floating objects. (Yes, rain slickers are available.) Designed for families, Idea Factory features a family restroom, nursing room and timed capacity control.
Skip carousel
There is always fun to be had at the Idea Factory. #exploration #creativity @msichicago Leah O'Donnell @leahod
...a whole afternoon of fun in itself... building water locks and sending balls across the room in a river of currents. anthony_duguay Toronto, Canada