The Museum's Original Model Railroad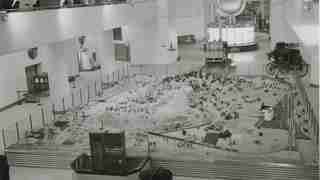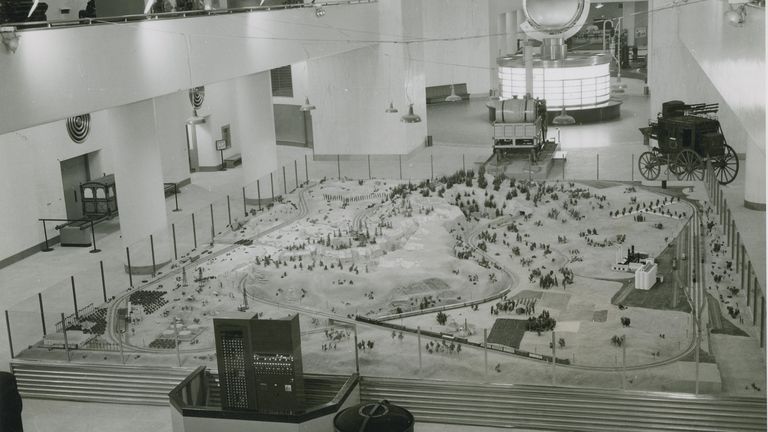 One of the smallest complete railroad systems, the Museum of Science and Industry's original model railroad was the largest of its kind in the world when it opened in 1941. Designed by Minton Cronkhite, the railroad covered 2,340 square feet of floor space and was built in Q scale, which paired 1:45 scale trains with 2-rail O gauge track. The various scenes on the model railroad illustrated the role of the railroad within U.S. industry and agriculture throughout the desert southwest. It included 1,000 feet of track and 40 switches operated by an automatic control board.
When it closed in May of 2002, our model railroad had been in service for over six decades, serving as one of the most well-known and beloved exhibits in the Museum. It had seen several enhancements over the years as new technologies helped railroads to operate more safely and efficiently. It was also one of the first railroads in the country to run "diesel" engines as they replaced steam engines.
Today, the Museum's railroad exhibit, The Great Train Story, once again tells the modern railroad story. The newer layout is 50 percent larger than the original railroad and has the ability to operate more than 30 trains, rather than the original 10.
The Great Train Story follows the winding railroad journey between Chicago and Seattle, passing through the Midwest, the Plains States, the Rockies, the Cascades and into the Pacific Northwest. The more than 30 trains on the track are involved in industries as diverse as grain commodities, raw materials for manufacturing, consumer goods for import and export, lumber and tourism. And various interactive stations allow you to help the trains complete their long journey!