Take the model railroad trip that can whisk you cross-country in minutes, or fascinate you for hours.
Whether for global shipping or personal adventures, the railroad doesn't just move people and things—it has long reflected our nation's character and ambitions. Ride along as The Great Train Story presents 2,200 miles of scenery and stories from Chicago to Seattle along 1,400 feet of winding track. People say that things look different from a train. From these trains, the view is amazing.
ALL ABOARD
Tale of the Tracks
Generations of guests have enjoyed model train experiences at MSI. Now, The Great Train Story provides the most enthralling one yet. A centerpiece of the Transportation Gallery, this interactive model railroad features more than 20 trains winding through a continental journey replicated in astonishing detail and scope. From the heights of Rocky Mountain ranges and Chicago skyscrapers, down to the tiniest crossing lights and floating seabirds, this massive scale model can be seen many times and still reveals something new on every visit.
Hidden miniature scenes abound,
from lazy days at the beach
to workdays in the wilderness.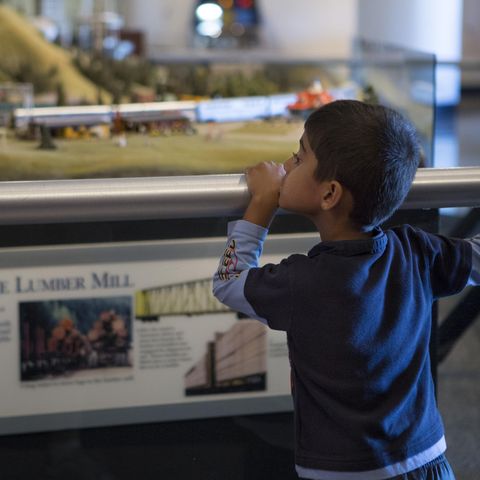 In 3,500 square feet, there are adventures to find everywhere you look, no matter your age or interest.
You don't have to be a train-crazy toddler, miniatures maniac or geography geek to be transported by the craftsmanship on display. Take in the twice-hourly "nighttime mode" and the subtle jokes hidden in miniature scenes. While you're at it, use interactive buttons to lift a drawbridge, set off tunneling charges or fell a few trees. Like any good trip, this is one worth enjoying at your own pace.
Skip carousel
You can learn a lot from the exhibit, or you can just marvel at the movement and detail. Jay Shefksy WTTW Chicago
Each builder/designer has his own fingerprint, usually a hidden oddity—or "Easter egg"—in the model. Robert Elder Chicago Tribune
My favorite was the huge model train exhibit depicting transportation by rail between Chicago and Seattle. Lifeisagr8adventure Sarasota, Florida
The Great Train Story is an epic model train display. Wow. Dianne L Barrie, Canada