Dive deeper into the story of the U-505 submarine on a special extended tour before Museum hours.
For a deeper dive into the U-505, scope out this chance to experience the sub and the story of its thrilling capture on a two-hour, private group tour offered on select weekends before Museum hours.
More details and upcoming dates below.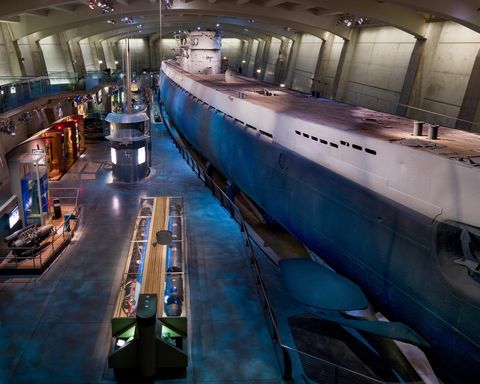 go in-depth
More time to explore
On select Saturday and Sunday mornings, the experience begins with check-in at 7:30 a.m., followed by coffee and tea at 8 a.m. Then you'll take an in-depth guided tour of the exhibit, followed by an interactive on-board tour of the submarine. After the tours, there will be free time to further explore both the submarine and exhibit before the Museum opens to the public. United States submarine veterans will be available to answer questions and share their stories.
Starts at 8 a.m. (check-in 7:30 a.m.)
Upcoming dates
Dates through Summer 2020 have been cancelled.
New dates for the In-depth Experience will be posted as soon as they are available.
Tickets
This experience is recommended for adults and children ages 10 and up. It is not included in Museum Entry, which is also required to attend.
General public – $40 + Museum Entry
Member – $35