Christmas in July Recipes
Comfort food is synonymous with the holidays, no matter where you're from. As part of our Christmas in July celebration of cultures and customs, we're showcasing authentic recipes from chefs around Chicagoland for you to try out and incorporate into your own traditions. So set the sourdough starter aside and bust out the nutmeg. It's time to let the home cooking begin!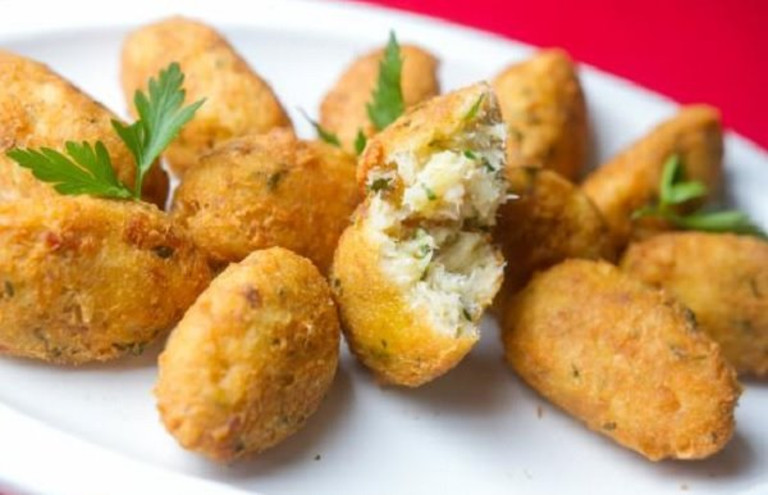 Risole (Brazilian Empanadas)
In Brazil, Christmas is known as Dia de festas and is celebrated every year on December 25. Christmas is one of the most important holidays in Brazil, a time for sharing with family over a meal. Unlike Chicago, Christmas is in the middle of summer and is often hot and sunny. So the feeling of "Christmas in July" is totally natural for Chef Jorgina Pereira of Sinhá in Chicago offers us just the right spice for our celebration. We are thrilled to share Chef Pereira's recipe for her favorite vegetarian pastries, Risoles de Palmito, or hearts of palm empanada. They are usually served as a treat before a feast like a holiday meal and are considered a must-try traditional dish when visiting Brazil.
Chef Pereira says her fondest holiday memory is the "drop-in" Christmas brunches her mother used to prepare every Christmas. "Back then, we didn't have phones to call anyone, and they just knew to come." Now you can try to make her Risoles de Palmito, and maybe you'll convince Papai Noel to drop in a few months early.
Ingredients (for about 30 Risoles)
Preparation time: 1 hour
Cooking time: 30 minutes
For the filling
2 tablespoons olive oil
1 white onion, finely chopped
2 garlic cloves, pressed
6 cups sautéed spinach
3 tablespoons of creamy Feta cheese
2 tablespoons of cream cheese
3 tablespoons chopped scallions
1/2 bunch parsley, finely chopped
Salt
Ground black pepper
For the dough
3 cups vegetable stock
1/4 teaspoon salt
1/4 teaspoon Turmeric (optional)
2 teaspoons olive oil
6 cups all-purpose flour, sifted for dredging
8 large egg whites
3 cups breadcrumbs
For deep frying
Preparation
Filling In a large skillet, heat the olive oil over medium heat. Add the white onion and cook, stirring occasionally, until soft and translucent for about 2 minutes. Add the garlic and cook for about 1 minute. In a large bowl, place the sautéed spinach and stir in the cooked onion and garlic mixture, salt, pepper, the Feta Cheese, cream cheese, parsley and scallions. Set aside.
Dough In a large, non-stick saucepan, place the vegetable stock, salt, Turmeric, and olive oil. Bring it to a simmer over medium-low heat. When the stock is hot, add the sifted flour all at once while stirring very well. It will get more and more difficult to stir but continue to stir vigorously for about 1 minute or so until obtaining uniformly lumpy dough.
Remove from heat and transfer the dough to an electric mixer fitted with a hook attachment. Knead dough at low speed for about 5 minutes or until it becomes soft and smooth. You may knead the dough, by hand, on a counter top. Add a little more flour if necessary, until smooth. Shape the dough into a flat disk and let it rest. Once both, the dough and filling have completely cooled, roll the dough to 1/8-inch thick. Cut the dough into round 3-4 inch circles. Spoon 2 teaspoons of the spinach filling, into dough rounds. Fold the dough over forming a half-moon shape. Pinch edges together to seal completely. Place them on a floured cookie sheet, not touching each other.
In a bowl, lightly whisk egg whites together. Place bread crumbs in another bowl. Carefully dip each risoles into the egg whites and then into the breadcrumbs until fully coated.
Pour enough vegetable oil into a heavy-bottomed pot. Heat to 350 F.
Deep fry risoles in small batches for about 8 minutes, or until golden brown. Drain on paper towels and serve hot.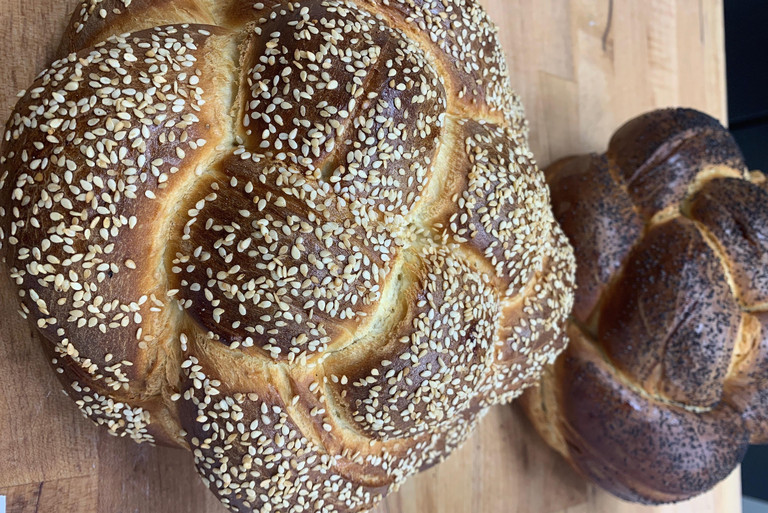 Jeff & Judes Challah
Challah bread as we know it today is laden with symbolism and religious significance. The term "challah" can refer to any bread used in a Jewish ritual, and its appearance is often directly tied into the occasion. At Rosh Hashanah, for example, the loaves are often made in a circular or spiral shape to symbolize (depending upon who you ask) continuity, the turning of the seasons, or upward progress. There's more agreement on why the bread is usually filled with raisins – to symbolize a year of plenty.
The bread most commonly referred to as challah is a braided loaf of eggy, shiny, slightly sweet bread. The braided strands form 12 "humps", which are said to symbolize the 12 ceremonial loaves kept in the Temple in Jerusalem for the 12 tribes of Israel.
Our challah recipe comes from chef Ursula Siker of the pop-up (and soon-to-be takeout) restaurant Jeff & Judes. A native of Los Angeles, Siker's dishes hearken back to the sit-down Jewish delis of her youth, with nods to southern cooking and traditional baking and pastry techniques.
Ingredients
Yield: 2 loaves
1 3/4 cup (14 oz) warm water
1 1/2 tablespoons Active Dry Yeast (ADY)
1 tablespoon plus 1/2 cup sugar
1/2 cup vegetable oil, more for greasing bowl
4 large eggs + 1 for egg wash
1 tablespoon salt
8 - 8 1/2 cups (960 - 1,020g) all-purpose flour
Preparation
In a large bowl, dissolve yeast and 1 tablespoon sugar in 1 3/4 cups lukewarm water.
Whisk oil into yeast, then beat in 4 eggs, one at a time, with remaining sugar and salt. Gradually add flour. When dough holds together, it is ready for kneading. (You can also use a mixer with a dough hook for both mixing and kneading.)
Turn dough onto a floured surface and knead until smooth. Clean out bowl and grease it, then return dough to bowl. Cover with plastic wrap, and let rise in a warm place for 1 hour, until almost doubled in size. Punch down dough, cover, and let rise again in a warm place for another 30-45 minutes.
Release your dough onto a clean surface and weigh into equal portions (depending how many strands you would like). Shape your dough in desired braid and place on a lined baking sheet. Cover loosely with lightly oiled plastic and allow to rise somewhere warm for 45-60 minutes or until puffed. If gently pressed with a finger, the indentation should remain. (You may also choose to freeze your challah after you've shaped it and before it's final rise. If so, thaw in fridge overnight and let rise at room temperature for 1-2 hours).
Preheat oven to 375 degrees. Beat remaining egg and generously brush loaves.
Bake in middle of oven for 35 to 40 minutes, or until golden. Cool loaves on a rack.
5 Strand Challah Braid
Arrange your ropes so there are 3 on one side, and 2 on the other.
Move the rope on the outside of the 3 ropes, to the inside of the ropes, next to the 2 on the other side.
Starting from the side that now has 3 ropes, move the outside rope to the middle next to the 2 ropes
Continue to the very end of your dough.
Pinch the ends together and tuck them under your braid, and then tuck the opposite end of your braid under also.

Meatballs have long been a staple of Swedish cooking, but sometime shortly after the end of the Second World War, it started appearing as a central component in a very important meal: the Christmas buffet, a special smorgasbord (a Swedish buffet of hot and cold dishes) featuring a variety of small dishes in the style of French hors d'oeuvres. The bite-sized meat sphere was perfect for dining while celebrating and connecting with loved ones, and soon it became a holiday essential.
In 1945, three years after MSI's first Christmas Around the World commemoration, a woman named Ann Sather quit her job and opened up an eatery on Belmont Avenue. Decades later, the restaurant bearing her name is famous for its classic Scandinavian favorites, including sweet towering cinnamon rolls, tart and tangy lingonberry jam and, of course, Swedish meatballs.
Ingredients
Makes 25 meatballs
2 ½ lbs. ground chuck
8 slices white bread, dampened with water
3 eggs
½ cup grated onion
¼ tsp. ground nutmeg
½ tsp. ground allspice
½ tsp. black pepper
1 tsp. salt
1 tbsp. beef stock
½ tsp. garlic powder
½ tsp. black pepper
Preparation
Combine all ingredients in a mixing bowl except for the meat.
Add the meat and mix well.
Roll the mixture into 1" meatballs.
Bake uncovered on a lightly greased baking pan at 300 degrees Fahrenheit.
Serve the meatballs hot with brown gravy.