A modern-day workshop for computer-based innovation, design and fabrication.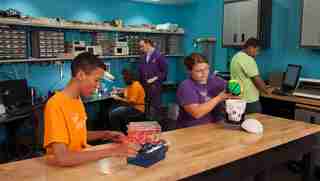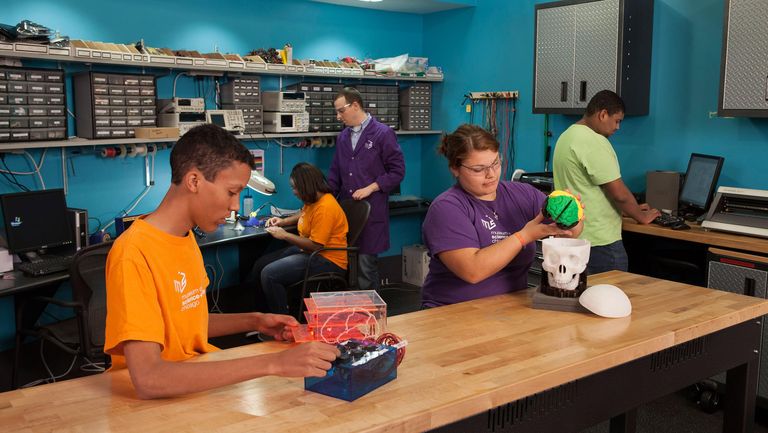 The Museum's state-of-the-art digital fabrication laboratory, the Wanger Family Fab Lab, allows you to dream up, design and make almost anything you can imagine using cutting-edge software and equipment.
The Wanger Family Fab Lab is one of more than 500 such labs worldwide. They began as a community outreach program at the Massachusetts Institute of Technology and have spread worldwide to rural India, Africa, Europe and across America. All Fab Labs share core software, equipment and capabilities so that projects can be shared among sites.
MSI's Fab Lab offers the Dream It, Design It, Fab It! workshop for Museum guests to have an introductory experience with digital fabrication. Fab Lab Summer Camps invite youth to spend a week in the lab, taking a deep dive into innovation and design.
We are unable to accommodate personal, corporate or independent projects at this time, but the Chicago Public Library Maker Lab and the South Side Hackerspace are among many options available in Chicago.
What's here
Design Circle: 15 CAD work stations
Laser cutters: two Epilog mini laser cutter 35 watts
Desktop 3D printers: 15 MakerBot Replicator 2
Professional 3D printers: one each of Stratasys Prodigy Plus, Stratasys uPrint SE Plus, and Stratasys Dimension Elite BST 768
Vinyl cutters: two Roland CAMM-1 Servo GX-24
Small digital milling machines: two Roland Modela MDX-20 CNC
Large digital wood router: ShopBot PRS standard CNC
Electronics workshop: 15 soldering and electronics assembly stations
What you can do in the Fab Lab
Make almost anything, from t-shirts to furniture to robots
Collaborate with other Fab Labs and design offsite using open-source software
Learn digital design tools used by experts in the field
Have hands-on access to fabrication machinery
Become an expert volunteer