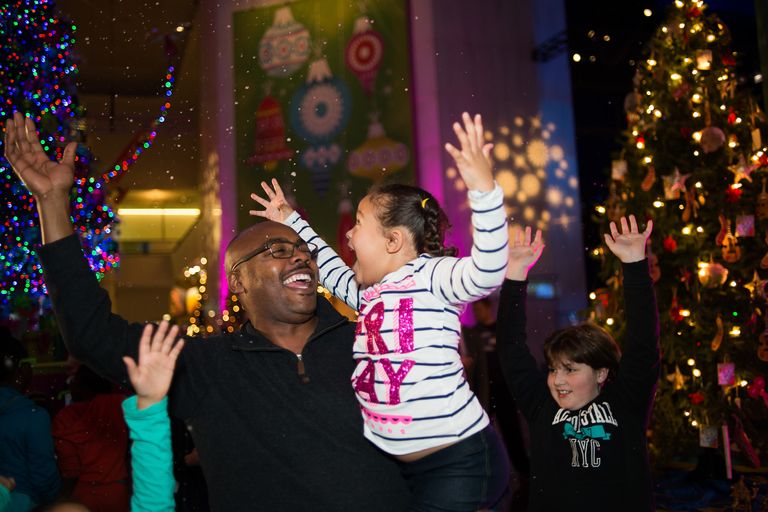 Holiday Visit Tips
It's a great time to visit MSI and to be a member! Review our holiday visit tips to prepare for your festive trip to the Museum.
'Tis the Season
The holidays are a popular time to visit MSI! We expect a lot of visitors between 9:30 a.m. and 1:00 p.m. so please plan ahead for crowds and limited parking, and review holiday hours of operation and scheduled closures in advance of your visit.
Skip the Lines
Already have your membership card? Skip the lines and proceed straight to the Lower Level entrance! Show your member card and photo ID to enter the Museum, from there you can take care of parking validation and ticketing needs at one of the self-service kiosks located outside of select exhibits or in the Members Lounge.
Book Tickets in Advance
The Christmas Around the World and Holidays of Light exhibits are included in Museum Entry, which is free for members. Other exhibits and experiences that require a timed-entry ticket tend to sell out quickly during the holidays, so we recommend that you purchase and print tickets in advance online using your member ID number. You can also display advance purchase tickets on your mobile device.
If you are a new member or have recently renewed and have not yet received your card(s) or member ID, please contact the Member Hotline at (773) 947-3161 to reserve tickets.
Parking Validation
Eligible members can redeem their parking benefit before exiting the Museum by visiting any of these convenient validation locations:
Members Lounge
Membership Desk
Self-service kiosks stationed outside select exhibits on the Lower and Main Levels (member ID or card required)
Guest Access
We know as members that you're passionate about MSI, and are looking forward to sharing the Museum with friends and family over the holidays. If you plan on bringing more than the one guest included under your membership, consider purchasing additional Museum Entry tickets in advance either online or by phone. This will speed up entry for your entire party.
Caregiver Access
If you have a Family membership and are planning to send a primary caregiver to the Museum with your children, we strongly recommend contacting our Member Services Team at (773) 947-3161 or membership@msichicago.org in advance of the visit, to ensure the caregiver is listed on your account and to review the Museum's policies. Please note that caregivers must visit the Membership Desk to receive a Museum Entry ticket before entering the Museum.
Teenage Member Access
Under the Family membership, teenagers ages 16 and 17 with a photo ID are able to use their parents' membership card to obtain free Museum Entry and other benefits (dependent on their level) without a parent present. Children 15 and under require adult supervision in the building at all times.
If your child is 18 or older and living in the household you may consider adding them as the secondary cardholder so they can visit on their own. For more information and to make this switch contact the Member Services Team (773) 947-3161 or membership@msichicago.org.
Renew Your Membership!
Plan your holiday visit by renewing online or calling the Membership Hotline at (773) 947-3161. A representative will assist you with any ticketing needs and send you a confirmation email to present at the Membership Desk.
Not sure if your membership has expired? Contact membership@msichicago.org or call the Hotline.