Michael Polsky and Amy Francetic on renewable energy and innovation.
Can Renewable Energy Power the World?
Curiosity Speaks with Michael Polsky, Founder & CEO of Invenergy, and Amy Francetic, Managing Director of Energize Venture
As MSI considers how to talk in-depth and with substance about the environment in our future exhibitions, the Curiosity Society offered an opportunity to hear from innovators Michael Polsky and Amy Francetic to consider how big a role renewable energy can play in our future.
Michael is a leading energy industry entrepreneur and innovator. Between 1985 and 2000, he founded and led his first two successful ventures—Indeck Energy Services and SkyGen Energy—that helped pioneer the independent power generation and cogeneration industries in the United States. In 2001, Michael founded Invenergy, a leading privately held, global developer and operator of sustainable energy generation solutions, headquartered in Chicago. Improvements in materials, technology, construction processes and reliability that disrupted the energy sector supported rapid growth of the company. Invenergy now has over 1,000 employees and has developed 146 wind, solar, battery storage and natural gas power projects totaling over 22,000 megawatts of sustainable energy generation around the world.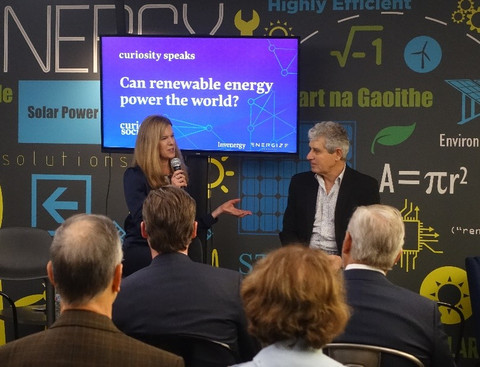 A specific impact of technology can be seen in the efficiency of wind turbines. Improvements in their construction, development of more intelligent and cost-effective batteries to adjust for the ebb and flow of power levels generated, and modernization of the power grid to deliver energy to consumers have made wind energy magnitudes more effective in this century. For example, during this decade alone, batteries have dropped 85% in price while their efficiency and capacity increased.
He contends that achieving 100% renewable energy requires continued development. First, we need to improve how energy is transmitted from its source to the consumer. The prime areas for producing solar and wind energy—the American southwest and Great Plains, respectively—are largely removed from major population areas where the demand is highest. The power grid must be modernized to efficiently deliver power to where it is needed most. Second, battery technology has to keep progressing so the grid will be resilient in the face of variation in output.
Michael firmly believes that it is possible for renewable energy to power the world. He says we are already moving in that direction thanks to the efforts of corporations that buy energy from companies like Invenergy. Not just Google and Amazon, but even traditional utilities have realized that their businesses also depend on adapting to and investing in renewable energy. Turbines and solar offer effective responses, with a simplicity and efficiency that will win out.
Michael describes Invenergy's competitive advantage as being a fast-paced company of experts. In order to innovate and solve the world's biggest problems, you must first be an expert. This approach is at the heart of meaningful innovation and enables Invenergy to anticipate the future. This philosophy was the driving force behind Michael's investment in Energize Ventures, where he saw an opportunity to start a fund that prioritizes looking ahead at our potential future. Relevant applications are emerging already, such as electric cars, cybersecurity and automation of the thinking process.
Michael emphasizes the vital role that MSI can play in addressing energy challenges. Located in a big city with educational institutions and access to capital, entrepreneurs, a built environment and transportation system, MSI is well-positioned to respond to high public interest in the problems of energy. "And what MSI does should be big," Michael said. "Not off to the side."
What is the Curiosity Society?
We are champions of the creative spirit, uniting supporters of everything MSI does, particularly the people and programs that bring STEM education to 500,000 children every year. With special access to events that celebrate the power of science in the community, the Curiosity Society ignites that spark of imagination firsthand. Come partner with us and fuel curiosity together.