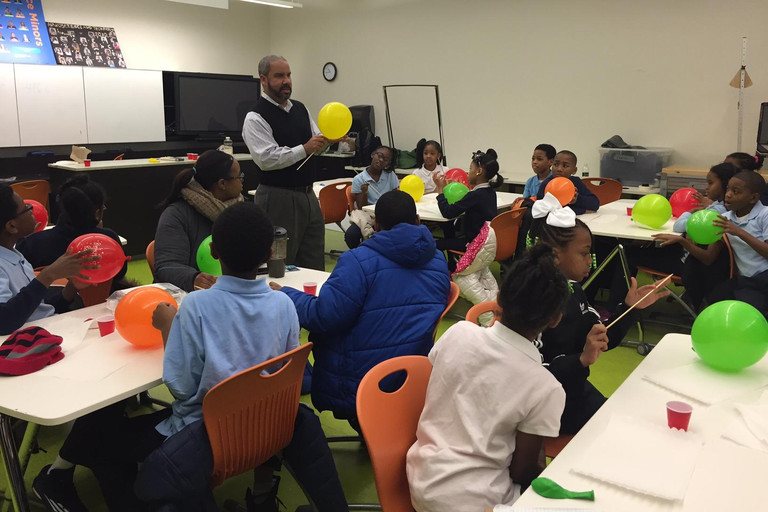 Volunteer Spotlight
BP America Asset Development Lead Tom Beebe has always recognized the value of mentorship and, as a mechanical engineer, is passionate about the field of engineering. "I believe mentorship provides a great opportunity to see what's possible beyond our blinders," explained Tom. "Since the life experiences of many young people are limited to their immediate family and neighborhood community, mentorship provides an opportunity to broaden their perspective."
As a young boy, Tom toured a construction site with his kindergarten class, an experience that changed the course of his life.
As a result of his life experience, Tom has been volunteering his time at the Museum of Science and Industry since 2016, hoping to inspire kids to pursue science- and math-related careers.
Tom is now one of two members of MSI's pilot STEM Pathway program, where he works with sixth-grade students from Erie Elementary over the course of a school year. He is also strengthening the message of mentorship to more than 3,500 BP employees in Chicagoland, recruiting colleagues to volunteer as BP STEM Ambassadors at MSI's Black Creativity Showcase in February and at the Science Works career celebration on October 19.
BP will be the presenting sponsor of the 2019 Science Works career celebration—an event that invites youth and families to learn about interesting jobs directly from STEM professionals.
"I believe being a mentor is about giving back and helping others succeed in life," Tom explained. "If someone has a genuine willingness to help others and share their experiences, then I would encourage them to consider mentoring because watching individuals grow and achieve their dreams and aspirations is priceless!"