FOUR WEEKS: SATURDAY mornings or afternoons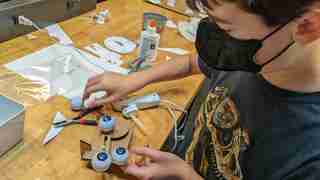 Robotic devices are everywhere in our world. Mechatronics is the study of the components that make up these robotic systems and other machines. This camp explores how these devices work, and kids will develop skills to integrate mechatronic elements into multiple iterations of robots and machines of their own design!
Each day, campers will play "mad scientist" with various electronic and digital fabrication mediums, creating mechatronic components, remixing circuits to morph kits into something new, and exploring mechatronics using various materials. Campers will be free to take all of their creations home to their own laboratories at the end of camp.
Scholarships for camp fees are available for students and their families who demonstrate financial need. Contact us for details.