When it comes to energy consumption, meeting our own demand will take a revolution. And you can be a part of it.
Preserving our future takes both discovery and change—a transformation of how we think about energy. This is where you step in: Team up and collaborate in an immersive Simulation Lab where you help decide Chicago's energy future.
This exhibit is not included in Museum Entry and requires a separate timed-entry ticket. The Simulation Lab is offered twice daily on Thursdays through Sundays. See below for more details.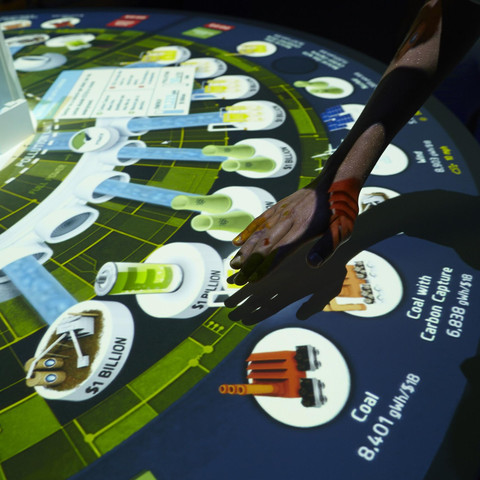 Challenge Accepted
Power to Change the Future
Future Energy Chicago is both a vibrant reflection on energy and a chance to reinvent a city's energy footprint. The Simulation Lab gives your mental energy a workout as your team reimagines Chicago's power usage by designing "greener" homes, cars, roads and more.
It's a game, but the data, choices and challenges involved are very real.
Just like the real-life challenge,
it can be met with choices, big and small.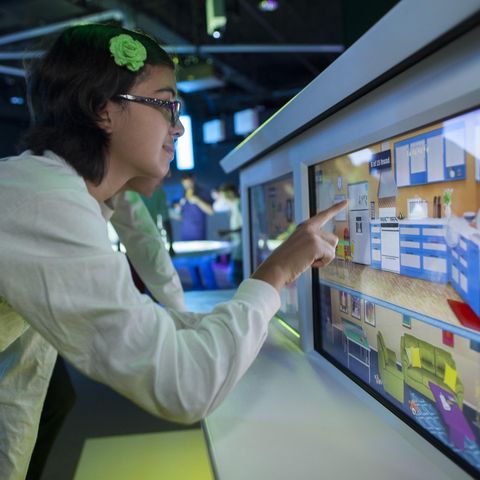 It's easy to take electricity for granted … until you must power an entire city.
Change your perception of energy by connecting with its production. When you retrofit houses, redraw neighborhoods, and upgrade power plants, you'll understand how our energy choices—as individuals and as a city—bring benefits but also have costs. Balancing this trade-off is the exhibit's challenge, because it's the challenge of today. The solution? Harness that most crucial energy source inside yourself: ingenuity.
Schedule beginning July 15
Thursdays through Sundays at 10:45 a.m. and 2:45 p.m. This exhibit is not included in Museum Entry and requires a separate, timed-entry ticket.
Tickets
Adults $12, Children (3-11) $9
MSI members: Adult $11, Children $8
The exhibit is made possible by the generous support of BP and the Exelon Foundation. Additional funding provided by "Public Museum Capital Grants Program," Illinois Department of Natural Resources, Illinois State Museum; Anonymous; Elizabeth Ruth Bakwin; The Aunt Marlene Foundation; and Mr. Edward M. Bakwin.