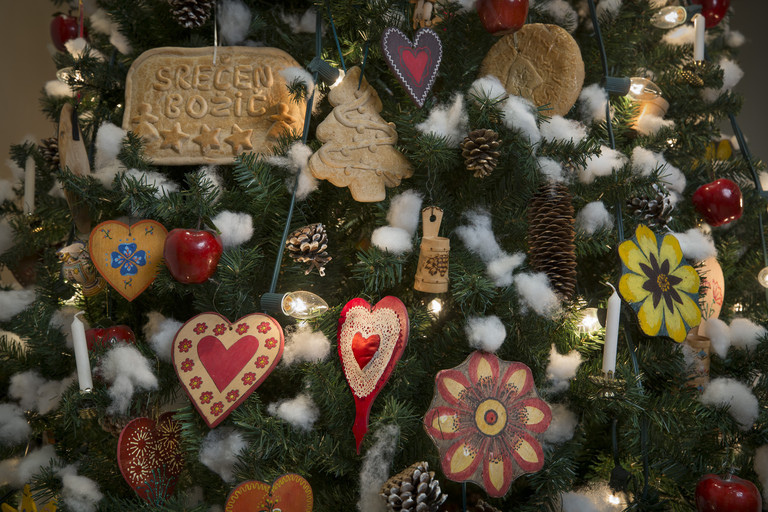 Slovenia to Wales
Slovenia
"Vesel Božić"
On St. Nicholas Day, the saint visits children with mischievous elves, parklji, who scare children who misbehaved during the year. Slovenian families create small pine-and-ribbon Advent wreaths. Each week leading up to Christmas, one blue or white candle is lit. They also bake potica, a traditional raisin nut bread enjoyed especially during the holidays. The ornaments on this tree are handmade, featuring traditional Slovenian motifs like silver and gold pine cones; clusters of walnuts; wooden heart-snapped ornaments painted with popular Slovenian landmarks, poets and writers; glass red apples; corn husk dolls; and cotton pieces strategically placed to represent snow.
Sweden
"God Jul"
Historically, Swedes would make ornaments out of straw since it was the most readily available material. Candles were used in times before electric lighting, and apples were a special treat during a northern climate's winter. The woven heart baskets held sweet treats, such as pepparkakor (heart-shaped ginger cookies). All of these items would stay on the tree until January 13, 20 days after Christmas. On this day children hold a party, called julgransplundering, and get to eat all of the goodies left on the tree. The yarn tomtar elves are representative of the household elf Tomten, who watches over the house all year long.
Switzerland
"Fröhliche Weihnachten" (German), "Joyeux Noël" (French), "Buon Natale" (Italian)
Switzerland is a diverse country, with its population speaking German, French, Italian and Romansh. Customs and decorations may vary from one region to the next. Many Swiss trees feature handmade ornaments. The tree is also decorated on Christmas Eve, which is a joyful family celebration. Traditional décor on this Swiss tree includes hand-blown glass ornaments from Swiss shop Glasi Hergiswil, candles, tinsel and lights. Wrapped gifts are placed underneath the tree, as is a crèche featuring little figurines from the Nativity scene.
Thailand
"Suk San Wan Christmas"
Less than five percent of Thai people are Christian, so Christmas is not a common celebration. However, with Western influence, children may dress in Santa costumes, sing, dance and play holiday party games. The Thai New Year (Songkran) in April is a more widely celebrated holiday. Thai culture is represented on this tree with classical dance symbols, Thai silk and crafts, musical instruments, and fruits.
Ukraine
"Chrystos Razhdayetsya"
The silver spiders that hang on the tree represent a Ukrainian folk tale. A poor family had no decorations for their Christmas tree, so while the children were sleeping, spiders spun webs of silver around its branches. When the family awoke Christmas morning, the tree was sparkling with silver webs. The spider web ornaments are all handmade using traditional Ukrainian embroidery patterns. To this day, a spider web found in the home on Christmas is a sign of good luck.
United States of America
"Merry Christmas"
Most of the ornaments on the tree have been handmade by members of the Friends of the USA Tree, who reside in Illinois, Michigan, Texas and New Hampshire. The eagle tree-topper was made to look as though it is landing on the tree, and it was constructed from 125 pieces of wood from four different types of trees. The large stockings are hand-quilted. All the star boxes are decorated with scenes depicting Christmas memories and some honor the United States military. You'll also see assorted wood, fabric and lace ornaments, round ornaments with sequins and beads, clay ornaments made to look like cookies, and crocheted roses and snowflakes. The snowflakes are all different sizes, and no two patterns are alike.
Wales
"Nadolig Llawen"
For many years, the Welsh decorated their homes with boughs of holly for protection and good luck. Birds' nests and wrens in ribboned cages on the tree represent the holiday custom of "the hunting and displaying the wren." This is when the smallest of birds becomes the king at Christmastime and is carried from house to house in a decorated cage by groups visiting their neighbors for holiday refreshments. The hobby horse, Mari Lwyd (a gray mare), is carried by a man disguised as the horse under a white sheet. Other Welsh symbols on the tree include Welsh love spoons, the national daffodil flower, a triple string harp, musical notes, the national symbol of the red dragon, Welsh dolls and more.