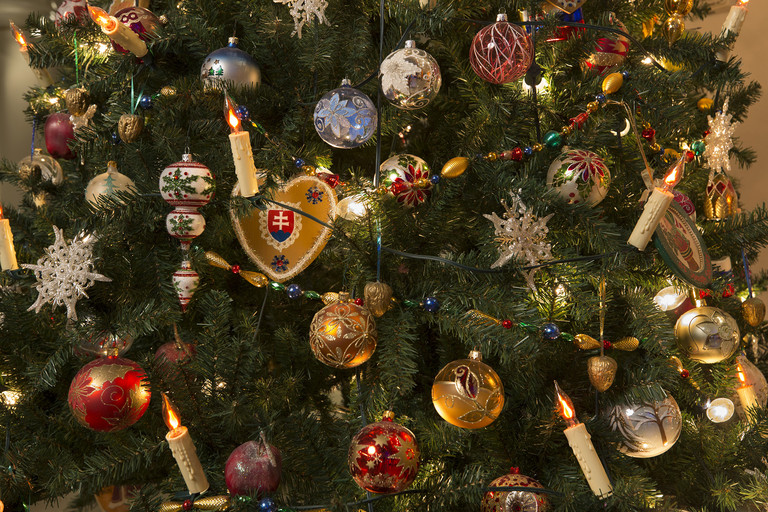 slovakia to wales
Trees and Traditions
Slovakia
"Veselé Vianoce"
The holiday season in Slovakia begins with the first day of Advent and the feast of St. Nicholas on December 6 and continues through Three Kings Day on January 6. Slovakia's foremost celebration takes place on Vilija, Christmas Eve. The Vilija meal starts with oplatka, a wafer coated with honey and eaten with a clove of garlic. Slovakian ornaments on the tree include nuts, cookies, candies, snowflakes, candles and Slovak crests. Other homages to Slovakian culture include inventors and inventions, the castles of Slovakia, and hockey.
Tree decorated by First Catholic Slovak Union District II.
On St. Nicholas Day, the saint visits children with mischievous elves, parklji, who scare children who misbehaved during the year. Slovenian families create small pine-and-ribbon Advent wreaths. Each week leading up to Christmas, one blue or white candle is lit. They also bake potica, a traditional raisin nut bread enjoyed especially during the holidays. The ornaments on this tree are handmade, featuring traditional Slovenian motifs like silver and gold pinecones; clusters of walnuts; wooden heart-snapped ornaments painted with popular Slovenian landmarks, poets and writers; glass red apples; corn husk dolls; and cotton pieces strategically placed to represent snow.
Tree decorated by Slovenian Catholic Center members.
SocialWorks
SocialWorks is a non-profit organization founded by Chicago's own, Grammy-winning musician and humanitarian, Chance the Rapper. SocialWorks aims to empower youth through the arts, education, and civic education. Programming focuses on education, mental wellness, homelessness, and performing and literary arts, directly affecting thousands of youth yearly. Their initiatives include OpenMike, Warmest Winter, Kids of the Kingdom, The New Chance: Arts & Literature Fund, and My State of Mind. Through these programs, SocialWorks hopes to inspire creativity, build dreams and advocate for youth success in all its forms.
Historically, Swedes would make ornaments out of straw since it was the most readily available material. Candles were used in times before electric lighting, and apples were a special treat during a northern climate's winter. The woven heart baskets held sweet treats, such as pepparkakor (heart-shaped ginger cookies). All of these items would stay on the tree until January 13, 20 days after Christmas. On this day children hold a party, called julgransplundring, and get to eat all of the goodies left on the tree. The yarn tomtar elves are representative of the household elf Tomten, who watches over the house all year long.
Tree decorated by Linnea; South Suburban Swedish Women's Club.
Switzerland
"Fröhliche Weihnachten" (German), "Joyeux Noël" (French), "Buon Natale" (Italian)
Switzerland is a diverse country, with its population speaking German, French, Italian and Romansh. Customs and decorations may vary from one region to the next. Many Swiss trees feature handmade ornaments. The tree is also decorated on Christmas Eve, which is a joyful family celebration. Traditional décor on this Swiss tree includes hand-blown glass ornaments from Swiss shop Glasi Hergiswil, candles, tinsel and lights. Wrapped gifts are placed underneath the tree, as is a crèche featuring little figurines from the Nativity scene.
Tree decorated by the Swiss Club of Chicago.
Ukraine
"Chrystos Razhdayetsya"
The silver spiders that hang on the tree represent a Ukrainian folk tale. A poor family had no decorations for their Christmas tree, so while the children were sleeping, spiders spun webs of silver around its branches. When the family awoke Christmas morning, the tree was sparkling with silver webs. The spider web ornaments are all handmade using traditional Ukrainian embroidery patterns. To this day, a spider web found in the home on Christmas is a sign of good luck.
Tree decorated by the Ukrainian Women's League of America.
United States of America
"Merry Christmas"
Most of the ornaments on this tree have been handmade by members of the Friends of the USA Tree, who reside in Illinois, Michigan, Texas and New Hampshire. The eagle tree-topper was made to look as though it is landing on the tree, and it was constructed from 125 pieces of wood from four different types of trees. New this year are wooden ornaments representing all 50 states constructed from alder and walnut.
Tree decorated by the Friends of the USA Tree.
In Wales, the Land of Song, Christmas is celebrated with early morning hymn singing services (plygain). Homes are decorated with holly and mistletoe. In some parts, tricksters go from door to door with a horse's skull on a pole (Mari Lwyd) to tease and bring good luck. Taffy (toffee) pulling is a favorite Christmas Eve activity. Look on the tree for symbols of Wales—daffodils, red dragons and harps.
Tree decorated by the Welsh Cambrian Society of Chicago.