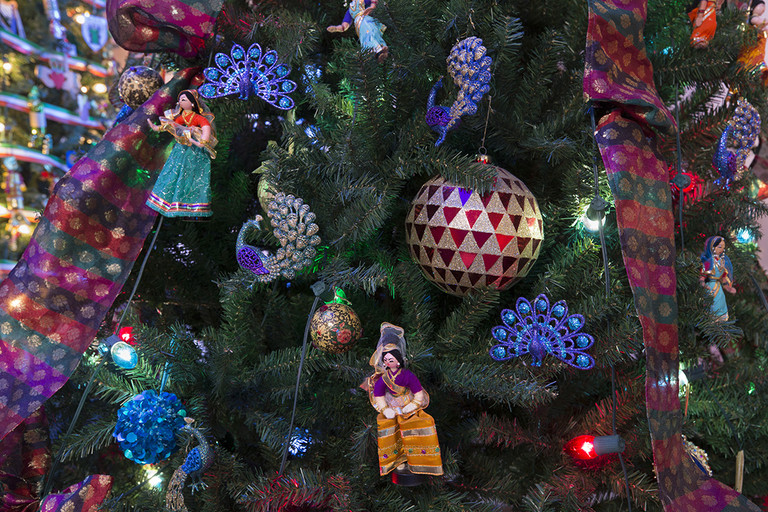 kenya to norway
Trees and Traditions
The ornaments on the Kenyan tree represent traditional Kenyan toys for boys and girls. This includes musical instruments: dolls, cars, cycles, and balls for sports in Kenya (football—which the United States is called soccer—rugby and golf). The clothing of the dolls reflects traditional Kenyan clothing, and the handmade vehicles reflect the materials from Kenya. In Kenya, Christmastime includes large family gatherings, feasts and travel to the rural areas or family villages. December is also a popular time for weddings.
Tree decorated by Team Kenya.
Lithuania
"Linksmu Kaledu"
Lithuania is an agricultural country, and original Christmas decorations were created with what was found in the farming fields. To symbolize the wheat and rye straw that were used for these decorations, white drinking straws are woven into intricate patterns. The sturdier material provides more design opportunities and gives a snowflake-like look to the tree. Before Christmas Eve, Lithuanian homes are cleaned from top to bottom, including fresh bed linens and baths for everyone. Kúcios (the Christmas Eve feast) includes a generous nine-to-12 meatless courses. Straw is placed beneath the tablecloth to symbolize the manger where Christ was born.
Tree decorated by family and friends of Bernice Kasarski, Lucille VeSota and Wanda Radavich.
Luxembourg
"Scheí Chreschtdeeg"
Apples and pinecones are traditional Christmas decorations, while red, white and blue are the colors of the nation's flag. In Luxembourg, children leave out plates on the evening of December 5. Kleeschen (St. Nicholas), accompanied by Houseker, leaves fruits, nuts and sweets for good children.
Tree decorated by the Luxembourg Brotherhood of America.
México has a very rich, colorful and varied culture, and the music, food, dances, clothing is different in every region of México. To honor this, Chicago Día de los Niños (CDDLN) and Edwards Elementary School created the ornaments on this tree as a way to share the Christmas traditions and cultures from all 31 states in Mexico and the Federal District. Some symbols you may see include a scorpion, which represents the state of Durango, and delicious mole (hot chiles and rich chocolate sauce) for which the state of Puebla is known.
Tree decorated by the Chicago Día de los Niños (CDDLN).
Native America
The Native American tree pays tribute to many different tribes with handcrafted ornaments, such as birch teepees and canoes, dream catchers, moccasins, dolls, stuffed buffalos and horses, and wooden tomahawks. Many Native American tribes became Christianized when Europeans arrived in America, so some traditions are similar to European-American customs. Several tribes create handmade nativity scenes with ornately crafted cribs to hold the baby Jesus. Instead of camels and donkeys, these nativity scenes feature American wolves, foxes and bears.
Tree decorated by the Skolnick family and friends.
Several elven characters visit Norwegians during the holiday season. Juleniss, a short elf with red hat and beard, much like Santa, brings gifts for good children. Fjonisse lives in the barn and cares for animals. He is a trickster though, and families must give him Christmas Eve porridge to keep him at bay. Norway's tree features brightly painted Norwegian Rosemaled painted ornaments, traditional folk art, heart baskets, candles, yarn nisse and Norwegian flags.
Tree decorated by the Norwegian National League of Chicago.