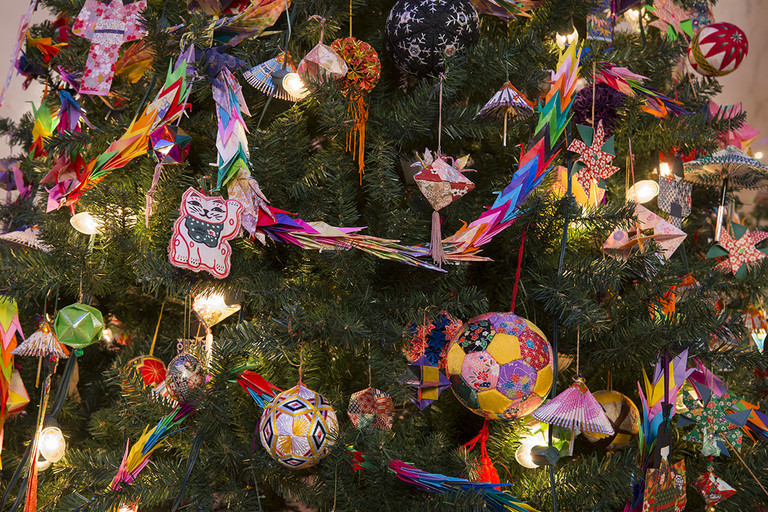 Japan to Netherlands
Japan
"Merii Kurisumasu"
There aren't many Christians in Japan, so they celebrate Christmas as a way to spread happiness rather than a religious celebration. Santa is known as Santa-san (Mr. Santa). Another Japanese gift bringer is Hoteiosho, a Japanese god of good fortune from Buddhism, but not necessarily related to Christmas. The ornaments on the Japanese tree represent aspects of their culture, and each ornament is handcrafted and derived from the method of origami—the traditional Japanese art of paper folding. You'll see paper cranes, Washi-Ningyou (paper dolls in traditional Japanese kimonos), Kusudama (traditional Japanese silk thread ball), and paper Kabuto (warrior's helmet).
Korea
"Sung Tan Chuk Ha"
Korea's tree is covered in paper ornaments, showcasing the country's popular craft. These handcrafted items include household objects like wardrobes, cabinets, chests, boxes, calligraphy desks, writing-brush holders and candle stands. Christmas is not a major celebration in Korea as it is in the West, but it is a time for sharing and making donations to those less fortunate. Children believe in Santa Haraboji (Grandfather Santa), and many youngsters participate in a Christmas Eve pageant at their church and go caroling after services.
Latvia
"Priecīgus Ziemassvētkus"
Latvians traditionally use natural and readily available materials for ornaments and decorations. The Latvian tree features many puzuri (straw ornaments) that are threaded into geometric shapes. Also on the tree are prievītes (ribbon woven with ethnic designs), cranberry garlands, pinecones, apples and nuts. Handmade dolls are dressed in folk costumes. To honor trees usually decorated with lit candles, candles adorn the tree alongside white lights. On Christmas Eve, the family gathers around the Christmas tree and sings traditional folk carols. Later, Ziemassvētku vecītis (Old Man Winterfest or Father Christmas), a stern looking man with a long white beard, may bring gifts for good children and brushwood switches for lazy or unmindful ones.
Lebanon
"Milad Majeed" (Arabic), "Joyeux Noël" (French)
Lebanon's ornaments are doves to symbolize peace, pine cones to symbolize eternity and to represent cedar trees native to Lebanon, and white snowflakes to symbolize serenity. In Lebanon, a few weeks before Christmas, beans, peas, wheat and lentil seeds are planted. Christians will decorate a manger in nativity scenes with the newly sprouted plants. At Christmastime, people visit one another's homes, where they indulge in sugared almonds with coffee and liquor. The main meal consists of roast beef, chicken, rice, and kibbeh, which is made of crushed wheat mixed with meat, onions, salt and pepper.
Lithuania
"Linksmu Kaledu"
Lithuania is an agricultural country, and original Christmas decorations were created with what was found in the farming fields. To symbolize the wheat and rye straw that were used for these decorations, white drinking straws are woven into intricate patterns. The sturdier material provides more design opportunities and gives a snowflake-like look to the tree. Before Christmas Eve, Lithuanian homes are cleaned from top to bottom, including fresh bed linens and baths for everyone. Kúcios (the Christmas Eve feast) includes a generous nine to 12 meatless courses. Straw is placed beneath the tablecloth to symbolize the manger where Christ was born.
Luxembourg
"Schéi Chreschtdeeg"
Apples and pine cones are traditional Christmas decorations, while red, white and blue are the colors of the nation's flag. In Luxembourg, children leave out plates on the evening of December 5. Kleeschen (St. Nicholas) accompanied by his servant, Houseker (Black Peter), leaves fruits, nuts and sweets for good children.
Mexico
"Feliz Navidad"
To represent a beloved tradition across the country of Mexico, this tree features a La Lotería theme. Similar to bingo, La Lotería is a game of chance that uses images on decks of cards for players to fill out their tabla, or playing board. The first to get four pictures in a row on their tabla shouts ¡Lotería! (Lottery!) or ¡Buenas! (Good!) and is the winner. The tree is also decorated with papel picado (perforated paper), a traditional Mexican folk art that is handmade with colored tissue paper using small chisels.
Native America
The Native American tree pays tribute to many different tribes with handcrafted ornaments, such as birch teepees and canoes, dream catchers, moccasins, dolls, stuffed buffalos and horses, and wooden tomahawks. Many Native American tribes became Christianized when Europeans arrived in America, so some traditions are similar to European-American customs. Several tribes create handmade nativity scenes with ornately crafted cribs to hold the baby Jesus. Instead of camels and donkeys, these nativity scenes feature American wolves, foxes and bears.
Netherlands
"Vrolijk Kerstmis"
On the evening of December 5, Sinterklaas (St. Nicholas) sets sail from Spain. Dutch children set out wooden shoes, a symbol of the Netherlands, filled with sugar, carrots and hay for Sinterklaas' horse. If they are good, they receive shoes full of sweets. The oldest wooden shoes worn by the Dutch date back to 1280 and are made of alder wood. Representations of these shoes hang on the tree, along with hand-painted tiles and round ornaments—rendered in traditional Delft Blue pottery, a custom dating back to the 16th century—depicting typical Dutch landscapes. The windmills and tulips symbolize the rich landscape of the Netherlands.