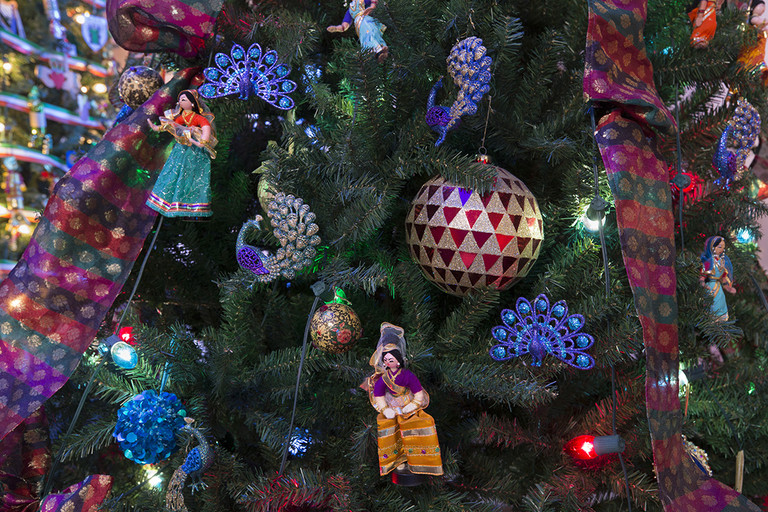 Finland to Italy
Finland
"Hyvää Joulua"
On December 6, 2017, Finland celebrates 100 years of its independence. To commemorate this occasion, this year's tree features blue and white ornaments to reflect the colors in the Finnish flag. All Finns know that Santa Claus, also known as Jouloupukki, lives in northern Finland near the Arctic Circle—a short jaunt to the homes of good Finnish boys and girls. Christmas dinner is served on December 24, and Santa arrives afterwards while children are still awake, so they have the chance to greet him!
France
"Joyeux Noël"
The ornaments on the tree celebrate France, showcasing various aspects of French culture, including geography, cuisine, history and entertainment. In celebration of the 75th anniversary of Christmas Around the World, the tree is adorned with handmade gold and black ornaments: black represents French fashion, and gold represents the richness France has given to the world over the years! In addition to Christmas Eve and Christmas Day, some regions in France also celebrate St. Nicholas Day on December 6 and Three Kings Day on January 6. Pain calendau is a bread that is traditionally shared with the needy and galette des rois (king cake) is served on January 6.
Germany
"Fröhliche Weihnachten"
The German tree features gold ornaments in honor of Nanie, who first began decorating this tree more than 40 years ago and began this family tradition. Ornaments include wooden nutcrackers and blocks, many St. Nick figures, angels and Hummels. The clear lights represent candles that were used many years ago, per the Meiszner-Csapo tradition. The gold garland represents the tinsel that used to adorn the tree. In Germany, Christmas is a time to bring family together and celebrate love with hearty Christmas meals. Christmas day feasts often include roasted pig, spaetzles (dumplings), bread, nut strudel, gingerbread, chocolate and homemade wine.
Greece
"Kalá Christoúgenna"
The Greek tree is decorated with authentic ornaments from Greece representing a variety of traditions. On Christmas Eve, Greek children visit neighbors singing carols and playing music. They are rewarded with treats and coins. Many families in Greece bake a traditional Christopsomo (Christ bread). The season also brings such delicacies as roast lamb, pork and kourabiedes, a nut cookie covered in powdered sugar.
Guatemala
"Feliz Natividad"
In Guatemala, Christmas is a blend of Christian and Mayan traditions. Families have feasts of turkey, tamales and Guatemalan dulces (sweets). The Feast Day of Saint Thomas is held on December 21, which includes a fair, parades, fireworks and folk dances. Dancers test their skills at the Mayan flying pole dance, where they climb to the top of a pole and swoop down in circles on a rope. The tree features handmade ornaments that evoke memories of Guatemala.
Hungary
"Boldog Karácsonyt"
In Hungary, painted heart-shaped cookies are a traditional Christmas tree staple, along with colored glass ornaments, Hungarian candy, apples and pears. You can see these represented on this tree in addition to handmade felt ornaments in Hungary's national colors of red, white and green. Popular Hungarian sweets and chocolates (szaloncukor) are also used as decoration, and underneath the tree you'll see Hungarian dolls. The tree is decorated on the evening of December 24, and kids are not allowed in the room where the tree stands until they have heard a ringing bell. Presents are opened on Christmas Eve.
Iceland
"Gleðilig Jól"
A church and a farmhouse is displayed on the tree's base to represent replicas of traditional churches and farmhouses from Þingvellir, Iceland, a site of historical, cultural, and geological significance. These items were the original tree decorations created by a volunteer with the Icelandic Association of Chicago. The hand-knitted spherical ornaments feature a traditional wool sweater pattern (lopapeysa) and represent the country's popular weaving customs. In Iceland, legend has it that 13 days before Christmas, 13 elfish pranksters known as Yulemen (each with a different personality and prank) descend upon Icelandic towns. Historically, these mischief-makers would steal and cause trouble, but today they leave small gifts in the shoes of deserving children.
India
"Shubh Naya Baras"
This tree features traditional ornaments reflecting Indian culture. India's Christian community celebrates Christmas by attending midnight mass and decorating their homes with ornate nativity scenes, lights and clay lamps perched atop their roofs. Many Indians also hang a star on the front of their homes until January 6, Three Kings Day. Diwali is a holiday celebrated by Hindus across India. The five-day festival of lights honors the goddess Lakshmi. The date changes every year based on the lunar calendar: October 19 in 2017 and November 7 in 2018.
Ireland
"Nollaig Shona Duit"
To celebrate the 75th anniversary of Christmas Around the World, the Irish tree features ornaments created over the last 30 years to commemorate the various themes at MSI: the Cinnamon Bear "Paddy O'Cinnamon" (Teddy Bears in 2002), lace snowflakes (Dashing Through the Snow... in 2006), Maps of Ireland (Maps, Tools for Adventure in 2007), and James Hoban from Co. Kildare, Ireland, architect of the White House (2009). Other ornaments include mistletoe, thatched cottages, Celtic crosses, angels, Claddagh rings, Irish flags, shamrocks representing the Trinity, teacups and harps. No Christmas dinner in Ireland would be complete without crackers, brightly colored foil tubes filled with silly hats and toys that are popped open just before dinner. Families wear the hats throughout dinner.
Italy
"Buon Natale"
La Befana is the female Italian equivalent of Santa Claus. She is an elderly, witchlike woman who flies above the country on a broomstick, giving gifts to children on January 6 (Epiphany). Legend tells that La Befana declined an invitation from the wise men to join them in Bethlehem, and to this day and for all eternity, she continues to search for the baby Jesus. The ornaments on this tree reflect the colors of the Italian flag, the colors of the holiday season, and various religious symbols of Christmas.