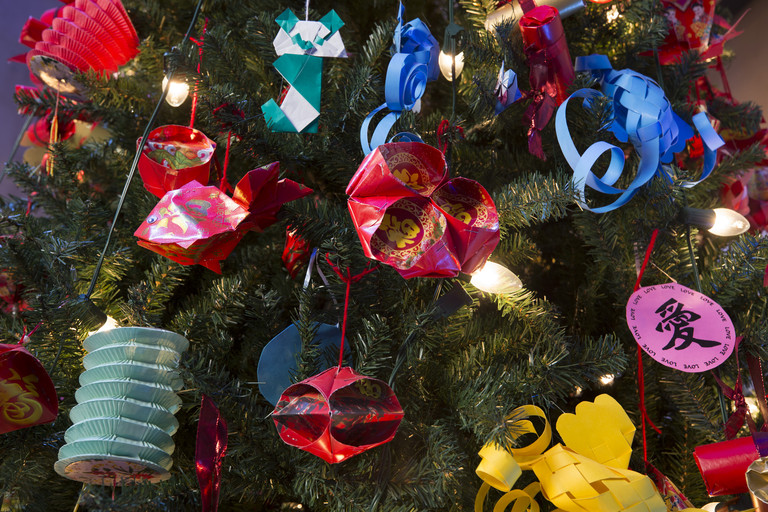 ecuador to italy
Trees and Traditions
During the Pase del Niño Viajero (festival of the traveling infant child) held in Cuenca, Ecuador on December 24, costumed children parade through town with floats, animals and music. Children also bring gifts of fruit to their neighborhood's nativity scene as offerings to the Christ child.
Tree decorated by proud Ecuadorians.
Egypt
"Nofri Shai" (Coptic), "Eid Sa'id" (Arabic), "Merry Christmas"
In accordance with the Coptic calendar, the Copts (Egyptian Christians) observe Advent for 43 days prior to Christmas and celebrate the holiday on January 7. During this time, they fast from all meals for a certain period of the day then change to a vegan diet. As Christmas approaches, trees and homes are decorated with lights and ornaments, and new outfits are purchased for both children and adults. On Christmas Eve, Copts attend a midnight mass, then gather together after the service in their homes and feast together in celebration.
Tree decorated by the St. Mark Coptic Orthodox Church of Chicago.
Estonia
"Haid Joule Ja Head Uut Aastat"
As part of the Song and Dance Festival, which takes place in Estonian capital Tallinn once every five years, most of the 20,000 singers and 7,000 folk dancers wear national dress. This is the largest event featuring Estonian national costumes. To represent this proud tradition, small dolls in costumes decorate the Estonian tree. The garlands are ceremonial belts that are a key part of the national costume and are specific to each region. Small, woven snowflakes and festive handmade children's mittens represent "hand arts," a longstanding custom for women in Estonia. The shields are the official symbols from each county in Estonia. Snowflakes and icicles also adorn the tree in honor of the cold northern European climate.
Tree decorated by the Aavik-Dawson Family.
Celebrating the 100th anniversary of the roaring 20's, the theme this year is a representation of France's social scene with red and black on the backdrop of Toulouse-Lautrec inspired creations! In addition to Christmas Eve and Christmas Day, some regions in France also celebrate St. Nicholas Day on December 6 and Three Kings Day on January 6. Pain calendau is a bread that is traditionally shared with the needy and galette des rois (king cake) is served on January 6.
Tree decorated by the American Association of Teachers of French and Alliance Française de Chicago.
Germany
"Fröhliche Weihnachten"
The German tree features candles to represent the lights of the trees. The crystals showcase the snow and ice of the winter season. The angels represent the religious component to the Christmas holiday. Gingerbread represents the tree as the famous treats of Germany. The nutcrackers and Hummels, too, originated in Germany. In this country, Christmas is a time to bring family together and celebrate love with hearty Christmas meals. Christmas Day feasts often include roasted pig, spaetzles (dumplings), bread, nut strudel, gingerbread, chocolate and homemade wine.
Tree decorated on behalf of the German Day Associations of the Chicagoland German Community, a special thank you to the Family of Helen E. Meiszner, the Csapo Family, LaCour Family + friends.
Greece
"Kalá Christoúgenna"
The Greek tree is decorated with authentic ornaments from Greece representing a variety of traditions. On Christmas Eve, Greek children visit neighbors singing carols and playing music. They are rewarded with treats and coins. Many families in Greece bake a traditional Christopsomo (Christ bread). The season also brings such delicacies as roast lamb, pork and kourabiedes, a nut cookie covered in powdered sugar.
Tree decorated by the Hellenic American Academy.
Guatemala
"Feliz Navidad"
In Guatemala, Christmas is a blend of Christian and Mayan traditions. Families have feasts of turkey, tamales and Guatemalan dulces (sweets). The Feast Day of Saint Thomas is held on December 21, which includes a fair, parades, fireworks and folk dances. Dancers test their skills with the Mayan flying pole dance, where they climb to the top of a pole and swoop down in circles on a rope. This tree features wood masks from Guatemala. For centuries, Guatemalans have carved extraordinary wood masks that show the colorful expressions of their culture and are used in rituals, dramas, dances and religious ceremonies.
Tree decorated by the Consulado General de Guatemala.
Hungary
"Boldog Karácsonyt"
In Hungary, painted, heart-shaped cookies are a traditional Christmas tree staple, along with colored glass ornaments, Hungarian candy, apples and pears. You can see these represented on this tree in addition to handmade felt ornaments in Hungary's national colors of red, white and green. Popular Hungarian sweets and chocolates (szaloncukor) are also used as decoration, and underneath the tree you'll see Hungarian dolls. The tree is decorated on the evening of December 24, and kids are not allowed in the room where the tree stands until they have heard a ringing bell. Presents are opened on Christmas Eve.
Tree decorated by Ildiko Lee and friends.
Ireland
"Nollaig Shona Duit"
If you look closely on this tree, you'll find red tools tied in green ribbon and pinecones. These are a tribute to the thousands of volunteers who have contributed millions of hours to the remodeling of the Irish American Heritage Center. Other ornaments on this tree represent important Irish symbols such as mistletoe; holly; thatched cottages; Celtic crosses; angels; Claddagh rings; Irish flags; shamrocks representing the Trinity; teacups; and harps. No Christmas dinner in Ireland would be complete without crackers, brightly colored foil tubes filled with silly hats and toys that are popped open just before dinner. Families wear the hats throughout dinner.
Tree decorated by Irish American Heritage Society.
These ornaments reflect the colors of the Italian flag and also the colors of the holiday season. Some of these ornaments, like the delicate lace snowflakes, were hand made by Nonna (grandma). Besides the colors, there is an emphasis on the religious symbols of Christmas. The Christmas holiday is celebrated throughout December until the Epiphany in January with a strong focus on religion. In the Italian culture, gathering together for a meal is an important component of the holiday season.
Tree decorated by the Romano Family and Friends.