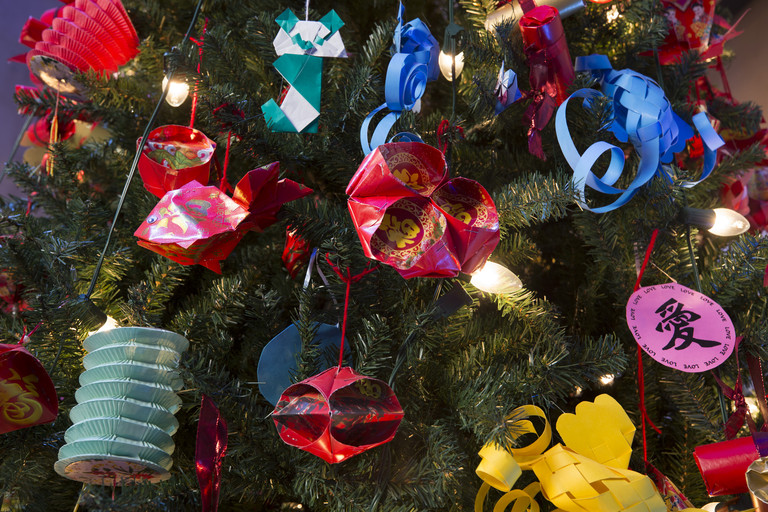 Canada to Estonia
Canada
"Merry Christmas" (English), "Joyeux Noël" (French)
This tree's décor showcases the Canadian cultural pride in its cold temperatures, love of hockey and the country's national symbol, the maple leaf. French Canadians celebrate Christmas with a réveillon (awakening). After mass, at around 2 a.m., a huge feast is served, featuring tourtière (a meat pie seasoned with sweet spices). In northern Canada, Inuits celebrate a winter festival called Sinck Tuck. In Nova Scotia and Newfoundland, costumed belsnicklers (also known as masked mummers) travel door to door, making music and noise, asking for treats. Those who cannot identify the masked visitors must join them in their parade.
China
"Seng Dan Fai Lok"

This tree's paper origami ornaments and lanterns were made by a local Girl Scout troop. These adornments showcase the special art of paper folding, which is a tradition during the holiday season. This art has been passed on for centuries and provides unity among the young and old as a way to decorate for special holidays. The lanterns represent light, leading the way to brighter horizons. Lanterns are historically created for China's Lantern Festival and follows the holiday season, typically in February or March.
Colombia
"Feliz Navidad"

The tree features dolls representing the typical outfits of each region of Colombia. The holiday season begins with Immaculate Conception Day on December 8 and ends with Three Kings Day on January 6. On December 14, families begin to construct lavish nativity scenes but baby Jesus is not placed in the manger until Christmas Eve. Following midnight mass, families gather to enjoy a Christmas Eve feast. Gifts are given by baby Jesus (sweets or small toys left under children's beds), though Santa has become popular in recent years.
Croatia
"Sretan Božić"
Beautiful ornaments made out of cookie dough decorate the Croatian tree. These ornaments were given to kids to eat as they were baked and decorated each year for the holiday. The ornaments will be conserved for years to come, and each one represents a different region of Croatia. On St. Nicholas Eve (December 5), children leave out freshly polished boots; good children's boots are filled with treats. St. Lucia Day is celebrated on December 13, and the female head of the household plants wheat grains in a dish. By Christmas Eve, the grain has sprouted and is tied with ribbon of red, white and blue, the colors of the Croatian flag.
Czech Republic
"Veselé Vánoce"
The Czech tree has been a part of Christmas Around the World since 1942. It is decorated entirely with traditional Czech gingerbread ornaments alongside candle lights. Each gingerbread ornament is handmade and decorated with traditional folk designs—symbols of good health, good fortune and happy hearts. St. Nicholas Eve is celebrated December 5, when the saint—accompanied by both a good and bad angel—visits children, bringing gifts to those who have behaved well. On Christmas Eve, families gather to enjoy a feast featuring baked carp and kuba (a barley, mushroom and onion casserole).
Denmark
"Glædelig Jul"
The Danish tree is adorned with traditional dolls, flags, angels, hearts, muffs and more! The celebration in Denmark begins with Advent, taking place four weeks before Christmas. A wreath crown is decorated with four candles, one lit each of the four Sundays before Christmas. On Christmas Eve, a traditional Danish feast includes roast goose and rice pudding in which an almond is hidden. The person who finds the almond receives a gift.
Ecuador
"Feliz Navidad"
During the Pase del Niño Viajero (festival of the traveling infant child) held in Cuenca, Ecuador on December 24, costumed children parade through town with floats, animals and music. Children also bring gifts of fruit to their neighborhood's nativity scene as offerings to the Christ child.
Egypt
"Nofri Shai" (Coptic), "Eid Sa'id" (Arabic), "Merry Christmas"
In accordance with the Coptic calendar, the Copts (Egyptian Christians) observe Advent for 43 days prior to Christmas and celebrate the holiday on January 7. During this time, they fast from all meals for a certain period of the day then restrict to a vegan diet. As Christmas approaches, trees and homes are decorated with lights and ornaments, and new outfits are purchased for both children and adults alike. On Christmas Eve, Copts attend a midnight mass, then gather together after the service in their homes and feast together in celebration.
England
"Happy Christmas"
In the past, the English tree has paid homage to the country's cultural icons and has included nods to the Queen and her beloved royal family, as well as a reflection on posh English style including traditional fascinators and hats. In England, families decorate their homes with holly, ivy and mistletoe. At night, carolers go from house to house, ringing handbells and singing Christmas songs. People give the carolers treats in return for spreading Christmas cheer.
Estonia
"Haid Joule Ja Head Uut Aastat"
As part of the Song and Dance Festival, which takes place in the Estonian capital Tallinn once every five years, most of the 20,000 singers and 7,000 folk dancers wear national dress. This is the largest event featuring Estonian national costumes. To represent this proud tradition, small dolls in costumes decorate the Estonian tree. The garlands are belts that are a key part of the national costume and are specific to each region. Apples are a longstanding traditional decoration. Small, woven snowflakes and festive handmade children's mittens represent "hand arts," a longstanding custom for women in Estonia. Snowflakes and icicles also adorn the tree in honor of the cold northern European climate.