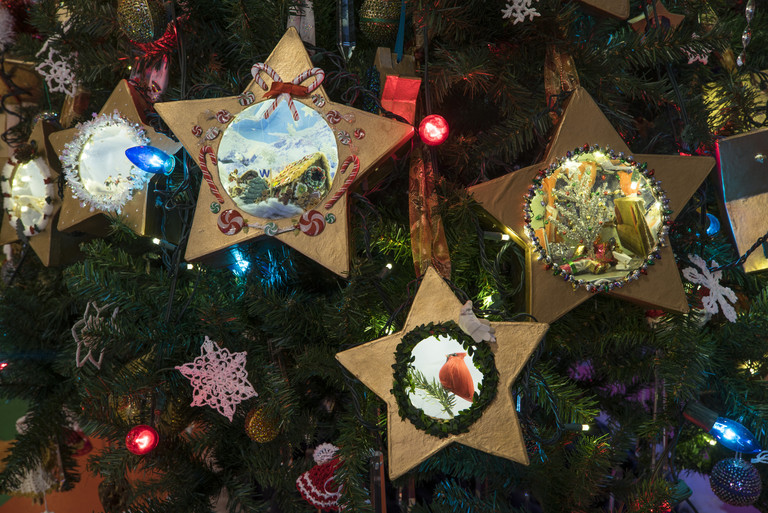 assyria to denmark
Trees and Traditions
Assyria
"Eedokhun Breekha!"
Assyrians hail from modern-day Iraq, Iran, Syria, and Lebanon. Despite displacement, they have a thriving culture in which traditions and language have been passed down over thousands of years. This year's tree features the theme of "Peace on Earth." As a cultural and religious minority group in the Middle East and on the world stage, it is often important to this community to honor each other's differences while coming together maintain their heritage.
Tree decorated by "Motwa" - The Assyrian National Council of Illinois
Austria
"Frohe Weihnachten"
To celebrate Austrian pride, pinecones, red and white heart-shaped plaques depicting cities, provinces and famous Austrians, decorate the tree. The beloved Christmas carol "Stille Nacht" ("Silent Night") was composed in a chapel in Oberndorf, Austria in 1818. To honor that history, a sketch of the chapel is displayed on the tree. And no traditional Austrian Christmas tree is complete without sugar-filled paper tassels. Families gather on Christmas Eve to enjoy dinner, featuring baked or fried carp. Christkind (Christ child), often a young woman dressed in robes, visits Austrian homes to give gifts to children.
Tree decorated by the American Friends of Austria.
Belarus
"Vyaselykh Kalyad"
Golden straw and flax ornaments depicting angels, wreaths and animals are the main decorations on this tree, complemented by round ornaments with Belarusian patterns. Also look for straw dolls dressed in beautiful traditional clothing, which are common souvenirs from the country and represent the unique Belarusian culture. In addition to Christmas, many citizens of Belarus celebrate Kaliady, a pagan festival that takes place from December 25 to January 7. Many dress in elaborate animal costumes, sing songs, play music and perform plays. Foods such as kuccia (a barley dish), herring, vinihret (a beet salad) and kalachi (fruit-filled pastries) grace the holiday table.
Tree decorated by proud Belarusians.
Belgium
"Joyeux Noël" (French), "Vrolijk Kerstfeest" (Dutch), "Fröhliche Weihnachten" (German)
Each year, this tree features a mix of traditional decorations that one might find on the tree of any Belgian family, along with other items that represent and celebrate current events in this country. During the holidays, families enjoy baking—and eating!—speculoos (spiced cookies shaped like St. Nicholas) and buche de Noël (a yule log cake).
Tree decorated by Belgians and friends of Belgium.
This tree displays wooden doves, painted white to symbolize peace. The country's maritime culture is represented through handmade wooden boat ornaments. Other ornaments include Belize-grown dried flowers, which resemble acorns, and handmade dolls. For the nine evenings of Las Posadas (celebrated by Mestizo culture), statues of Mary and Joseph are carried throughout town, from home to home, accompanied by music, dance, fireworks and other festivities. In Garifuna culture, the Charikanari dance interprets the relationship of a bull and a hunter with elaborate costumes, fun and games. Creole communities in Belize celebrate the Bram, a parade of dancing, singing and music-making throughout the countryside.
Tree decorated by the Richards Family, Harris Family and Fant Family.
Bosnia and Herzegovina
"Sretan Božić," "Sretna Nova Godina!"
With colorful deer and snow-white doves, this tree feels like a scene from a story or a holiday card sent by a friend. This tree represents a holiday card to the community, bringing a message of peace, hope, health and unity. Wishing you all "Sretan Božić" (Merry Christmas) and "Sretna Nova Godina!" (Happy New Year!)
Tree decorated by the Bosnian Herzegovinian American Community Center.
Bulgaria
"Честита Коледа!" "Chestita Koleda"
Bulgaria is the oldest country in Europe, founded in the 7th century with a diverse terrain, rich heritage and culture. The Christmas tree features a variety of original handcrafted ornaments, exemplifying several unique and ancient winter holiday cultural traditions. Koledari are carolers who go from house to house throughout villages starting at midnight on Christmas Eve with a motivation to protect against evil spirits. Survachki are decorated dogwood branches used to tap people on their backs while reciting verses wishing them health, fertility, and a prosperous New Year. Kukeri are masked, furry monsters, who parade and dance on the streets at the start of the New Year by inviting good luck and scaring away the evil eye.
Decorated by members of the Chicago Bulgarian Community.
China
"Seng Dan Fai Lok", 聖誕快樂
This tree's paper ornaments and lanterns were made by a local Girl Scout troop. These adornments showcase the special art of paper folding, which is a tradition during the holiday season. This art has been passed on for centuries and provides unity among the young and old as a way to decorate for special holidays. The lanterns represent light, leading the way to brighter horizons. Lanterns are historically created for China's Lantern Festival, which typically takes place in February or March.
Tree decorated by the Chinese American Civic Council of Chicago.
Czech Republic
"Veselé Vánoce"
The Czech tree has been a part of Christmas Around the World since 1942. It is decorated with traditional hearts representing gingerbread (perník). Gingerbread is used to celebrate many occasions in the Czech Republic, especially Christmas. Fruit, nuts and pine cones symbolize nature and good fortune. St. Nicholas Eve is celebrated December 5, when the saint—accompanied by both a good and bad angel—visits children, bringing gifts to those who have behaved well. On Christmas Eve, families gather to enjoy a feast featuring baked carp and kuba (a barley, mushroom and onion casserole).
Tree decorated by the Moravian Cultural Society.
The Danish tree is adorned with traditional dolls, flags, angels, hearts, muffs and more! The celebration in Denmark begins with Advent, taking place four weeks before Christmas. A wreath crown is decorated with four candles, one lit each of the four Sundays before Christmas. On Christmas Eve, a traditional Danish feast includes roast goose and rice pudding in which an almond is hidden. The person who finds the almond receives a gift.
Tree decorated by the Danish Brotherhood in America #35.