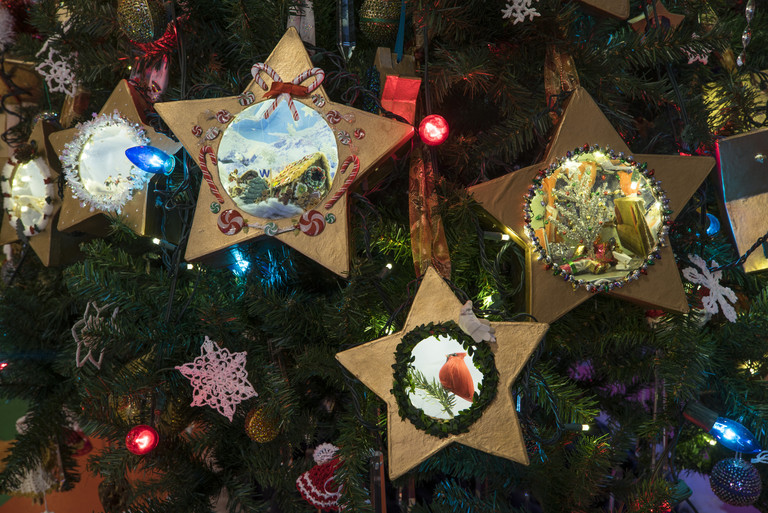 Armenia to Bosnia and Herzegovina
Armenia
"Shnorhavor Nor Dari yev Sourp Dznunt"
This tree is adorned with many traditional decorations from Armenia including fruits and doves. Pomegranates are the most prominently featured, because in Armenia they represent life, wellness and happiness. Armenians celebrate Christmas on January 6 with a water blessing symbolizing Christ's baptism. During the holiday season, some Armenian families eat fish because it was blessed by Christ.
Assyria
"Eedokun breekha"
Assyrians come from modern-day Iraq, Iran, Syria and Lebanon. Despite displacement, there is a thriving culture in which traditions and language have been passed down over thousands of years. This tree features themes of brotherhood, with photos of children from ANCI (in Skokie) that represent khigga, a folk dance in which people form a line by holding hands. The person in front of each line dance is holding a yalikhta, a piece of cloth decorated with coins for good luck. The tree also features lamassu or winged bulls that used to guard the gates of ancient Assyria, the national flag, the Mesopotamian flower, and the Assyrian (or neo-Aramaic) alphabet.
Australia
"Merry Christmas"
Summer is in full swing during Christmastime in Australia! Santa is often depicted wearing shorts and flip flops, and he is known to ditch his sleigh in favor of a firetruck. On this tree, you'll find homemade paper chains, decorations representing native Australian fauna and flora (including sheep and even a koala), and a cricket bat to represent their favorite national pastime. Plus, several ornaments are created by indigenous Australian artists which reflect the multicultural nature of the country.
Austria
"Frohe Weihnachten"
To celebrate Austrian pride, red and white heart-shaped plaques depicting cities, provinces and famous Austrians, as well as pinecones, decorate the tree. The beloved Christmas carol "Stille Nacht" ("Silent Night") was composed in a chapel in Oberndorf, Austria in 1818. To honor that history, a sketch of the chapel is displayed on the tree. And no traditional Austrian Christmas tree is complete without sugar-filled paper tassels. Families gather on Christmas Eve to enjoy dinner, featuring baked or fried carp. Christkind (Christ child), often a young woman dressed in robes, visits Austrian homes to give gifts to children.
Belarus
"Vyaselykh Kalyad"
Golden straw and flax ornaments depicting angels, wreaths and animals are the main decorations on this tree, complemented by round ornaments with Belarusian patterns. Also look for straw dolls dressed in beautiful traditional clothing, which are common souvenirs from the country and represent the unique Belarusian culture. In addition to Christmas, many citizens of Belarus celebrate Kaliady, a pagan festival that takes place from December 25 to January 7. Many dress in elaborate animal costumes, sing songs, play music and perform plays. Foods such as kuccia (a barley dish), herring, vinihret (a beet salad) and kalachi (fruit-filled pastries) grace the holiday table.
Belgium
"Joyeux Noël" (French), "Vrolijk Kerstfeest" (Dutch), "Fröhliche Weihnachten" (German)
Each year, this tree features a mix of ornaments that one might find on a Belgian family's tree along with other items that represent Belgium, such as waffle ornaments and pictures of the king and queen. Families enjoy baking—and eating!—speculoos (spiced cookies shaped like St. Nicholas) and buche de Noël (a yule log cake).
Belize
"Merry Christmas"
This tree displays wooden doves, painted white to symbolize peace. The country's maritime culture is represented through handmade wooden boat ornaments. Other ornaments include Belize-grown dried flowers, which resemble acorns, and handmade dolls. For the nine evenings of Las Posadas (celebrated by Mestizo culture), statues of Mary and Joseph are carried throughout town, from home to home, accompanied by music, dance, fireworks and other festivities. In Garifuna culture, the Charikanari dance interprets the relationship of a bull and a hunter with elaborate costumes, fun and games. Creole communities in Belize celebrate the Bram, a parade of dancing, singing and music-making throughout the countryside.
Bolivia
"Feliz Navidad"
A local family has decorated this tree for the past 12 years with 160 artfully handmade traditional ornaments gathered during trips back to Bolivia. The ornaments come from the three main regions of the country—high plains, low plains and the valleys—and include llamas; red, yellow and green totora boats; and native Cholita dolls that represent the city of La Paz. In Bolivia, Christmas centers on the birth of Jesus. Gifts come from Jesus and Santa Claus delivers those gifts. This religious holiday is spent with family and celebrated with special dinners consisting of picana (a soup made of chicken, roast beef or roast pork), salads and a variety of tropical fruits.
Bosnia and Herzegovina
"Sretan Božić," "Sretna Nova Godina"
Three-dimensional snowflakes adorn the tree in honor of the winter holidays. A panoramic image of a Bosnian and Herzegovinian city is depicted inside each clear ornament. This year, simple three-dimensional homes are nestled in amongst the cities and snow. The whole tree is white to represent Bosnia and Herzegovina's continued desire for peace in the world. Though the traditions vary inside each home, they are united in their love of family and friends, and their wish for peace in their communities and the world.