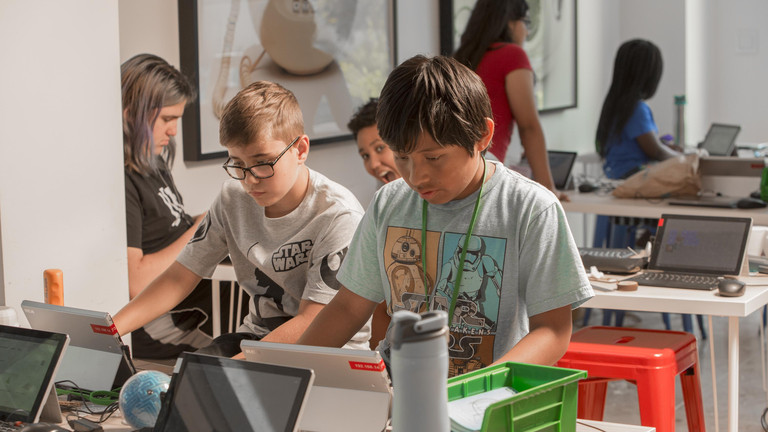 Calling all young makers, tinkerers and inventors! Our Wanger Family Fab Lab Summer Camp is where science, art and creativity are combined with technology, innovation and fun!
About Fab Lab Summer Camp

Campers will explore, discover and re-imagine their world by designing and making their own unique projects. Each morning, campers will be introduced to new fabrication techniques in 3D printing, laser cutting, vinyl cutting, computer-controlled milling, digital embroidery and more. Each afternoon, campers will apply what they learn to make their ideas real.

Guided by Wanger Family Fab Lab staff, new campers will explore projects from a list of activities that build upon each other. They will have opportunities to imagine, design, fabricate and share their projects with their peers. Returning campers can re-explore these projects in more depth, or create new projects of their own design that are fueled by their imaginations.

Working both independently and collaboratively, campers will experience a safe and welcoming environment that encourages risk-taking, determination, resilience and curiosity, helping them discover who they are and how they can change the world by developing their creative thinking and problem-solving skills. Fab Lab Summer Camp fosters a child's creative imagination and allows them to look at themselves, each other and their world in new ways.

Digital Fabrication in the Smart Home!

Fab Lab Summer Camps will take place in our state-of-the-art digital fabrication laboratory in the Smart Home, an eco-friendly special events space set in the Museum's Smart Park. The unique indoor/outdoor activity environment is the perfect place for campers to meet new friends and discover the connections between nature, art and science. Campers will also learn more about the Smart Home and do in-depth explorations of Museum exhibits with MSI staff.

Camp Sessions for 2019

Each camp session runs Monday through Friday from 9 a.m. to 4 p.m. The $750 camp fee includes lunch, snacks and materials. After Camp (4–5 p.m.) is available for an additional $100 for the week.

MSI members save 20% on camp fees, including After Camp. (Membership must be active for the duration of the selected camp session.)

Session dates

All sessions are Mondays through Fridays from 9 a.m. to 4 p.m.
Note: Camp is open on Thursday, July 4.

| | |
| --- | --- |
| June 24–28, 2019 | ** SOLD OUT ** For children entering 7th - 9th grade |
| July 1–5 | For children entering 5th - 7th grade |
| July 8–12 | For children entering 7th - 9th grade |
| July 15–19 | ** SOLD OUT ** For children entering 5th - 7th grade |
| July 22–26 | For children entering 7th - 9th grade |
Registration
Registration for Fab Lab Summer Camp 2019 sessions is now open.