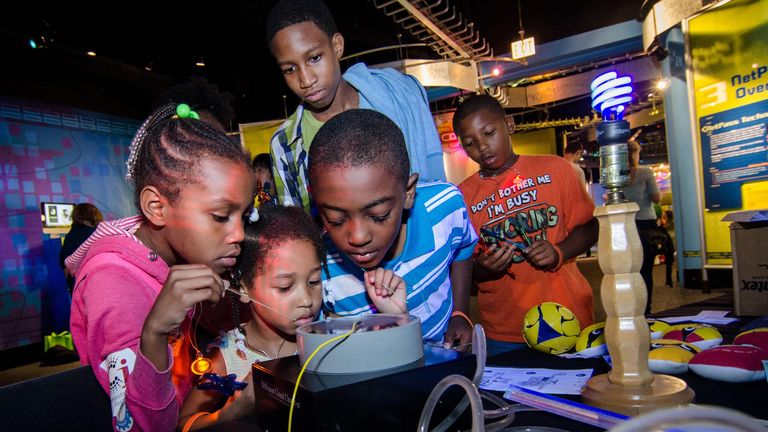 Created by the Museum of Science and Industry more than 40 years ago, Black Creativity provides an opportunity to partner with an established cultural organization making a profound impact at the local level … in the areas of greatest need. Help us transform the lives of African-American children by partnering with MSI's Black Creativity Program.
The Museum offers multiple ways for companies, organizations and individuals to get involved. Opportunities include sponsorships, event support, 21 Club membership and other ways to give.
Partner with us
To make a gift, inquire about the 21 Club and ways to support Black Creativity, please contact Octavia Hooks at (773) 947-3729.
21 Club
Individuals and small businesses are invited to give $300 or more annually to become a member of the 21 Club, an elite group of our most passionate supporters. As a thank you for your generosity, you'll receive special benefits, including:
Free Museum Entry for multiple people • Free or discounted indoor parking • Free or discounted Giant Dome Theater passes • Discounts on special exhibition, event and lecture tickets • Discounts in Museum stores and restaurants • Complimentary invitation to the MSInsider Holiday Celebration • And more!
21 Club Members
MAJOR BENEFACTORS
Ms. Michelle L. Collins | Mrs. Denise and Mr. Gary Gardner |
Mr. and Mrs. Mamon Powers Jr.
LEADERSHIP CIRCLE
Mrs. Barbara and Mr. Earl Bowles | Mrs. Cheri and Mr. Norman Chappelle | Holland Capital Management LLC | Mrs. Peggy A. and Mr. Paul J. Montes Sr.
SMALL BUSINESS PARTNERS
Roslyn Chapman | The Chapman Edge | Enterprise Leasing of Chicago
PATRONS
Mrs. Melonese and Mr. Kevin Brookins | Mr. Archie Burton |
Cecilia Conrad | Mr. and Mrs. James H. Foster |
Dr. Helen Davis Gardner | Arnie and Rebecca Klein |
Mrs. Sandra and Mr. Timothy J. Rand | Ms. Shari E. Runner |
Mrs. Lynn and Mr. George Williams
FRIENDS
Mrs. Toya Horn Howard and Mr. Robert Howard |
Dr. Betty Nowlin James