November Holiday Performances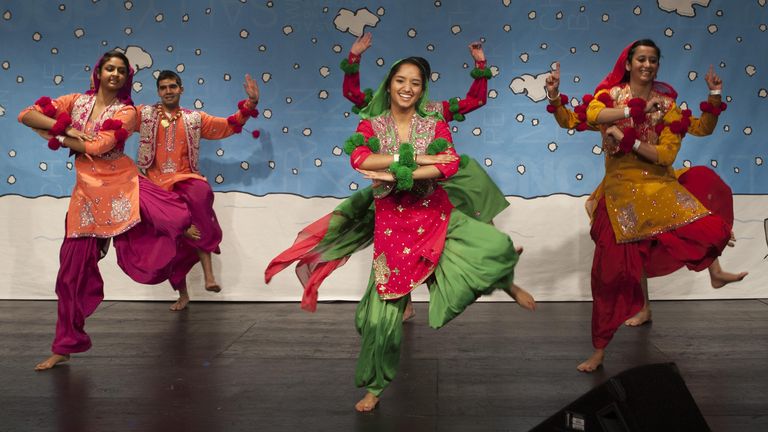 Enjoy various ethnic song and dance performances from groups around the Chicago area, on the weekends from November 21 through December 20, as well as December 22 and 23. All activities take place on the Holiday Stage located on the Museum's Main Level. Choral performances by area school groups will also take place on select weekdays. Please note that the schedule is subject to change; check the schedule near the Holiday Stage for up-to-date information.
Saturday, November 21
10:30 a.m. Finnladies of Chicagoland (Finland)
11:45 a.m. Chinese American Civic Council
2 p.m. McNulty Irish Dancers
3:15 p.m. Colombian American Cultural Center
4:30 p.m. Ballet Folklorico International Tuwamari (Ecuador)
Sunday, November 22
10:30 a.m. Ensemble Horo (Bulgaria)
11:45 a.m. Alma Ecuatoriana (Ecuador)
2 p.m. St. George Serbian Orthodox Church
3:15 p.m. Tierra Colombiana & Viva Panama
4:30 p.m. Malikoscieliscanie (Poland)
Friday, November 27
11:45 a.m. Whispers Center for Artistic Expression (Poland)
2 p.m. Choomsarang Korean Dance Group
3:15 p.m. Tsukasa Taiko (Japan)
4:30 p.m. Punch & Judaism (Hanukkah)
Saturday, November 28
10:30 a.m. Moravian Cultural Society (Czech Republic)
11:45 a.m. PACF (Philippines)
2 p.m. Boliviamanta: After School Matters (Bolivia)
3:15 p.m. Mangalorean Konkan Christian Association (India)
4:30 p.m. Belizean Cultural Bearers, Inc.
Sunday, November 29
10:30 a.m. Bonnie Lindholm School of Dance (general holiday)
11:45 a.m. Nordikids (Sweden)
2 p.m. Chicago Cuatro Orchestra (Puerto Rico)
3:15 p.m. Flamenco Chicago (Spain)
4:30 p.m. Jasmin Jahal Dance Company (Middle East)