This annual tradition began in 1942 with a single tree, newly decorated every day for 12 days to represent the countries fighting alongside America during World War II.
The tree was a wartime tribute to the Allies, but it also symbolized hope during the uncertain times. By bringing together so many ethnic holiday customs, the display was a reminder that there is more to join us than divide us. Since its first year, the display has certainly grown but this spirit remains unchanged. It's what makes MSI the perfect place to tour a world of traditions during the holidays.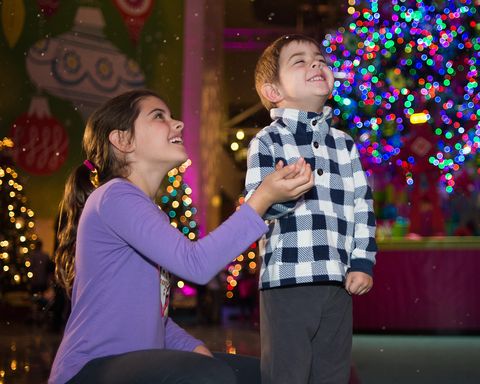 GLOW GLOBAL
Celebrate the Season
The Museum's 45-foot Grand Tree takes center stage in the Rotunda, surrounded by more than 50 smaller trees and displays presenting the cultures and holiday traditions from around the world. All in all, more than 3,500 community volunteers lend their time and knowledge to create this celebration of global celebrations.
Where do people fast on Christmas Eve
until they see a Golden Pig on the wall?
Christmas Around the World and Holidays of Light at the Museum of Science and Industry is one of my very favorite Chicago holiday events and is a must-see for my family each year – we've been going for more than a decade now. Shannan Younger Chicago Parent blogger
Christmas Around the World is a wonderful opportunity to learn about how other countries celebrate the holidays. Ana Belaval WGN9 News
We bring the family here every year to see the Christmas Trees from around the world. Absolutely amazing! Lindsey W
At Christmastime the museum decorates 50 Christmas trees, one for each country. It is so gorgeous and worth the admission just to see! katpilch Toledo, Ohio