Explore rich holiday traditions from around the globe while creating your own traditions with loved ones in Christmas Around the World and Holidays of Light.
It began in 1942 with a single tree. Today, the Museum's beloved annual celebration features a four-story, floor-to-dome Grand Tree, surrounded by a forest of more than 50 trees and displays decorated by volunteers to represent the holiday traditions from cultures around the globe. On the weekends, you can also enjoy live holiday performances. It's the one-of-a-kind experience that brings a whole world of holiday joy under one roof.
It's ornamental
All aglow for LEGO®
This year we're celebrating our temporary exhibit Brick by Brick with new LEGO-inspired activities and décor. Check out LEGO ornaments custom-created for us by Chicago public figures and athletes. The weekends also come alive with cultural music and dance performances. Not to mention the daily spectacle of lights and music, the occasional indoor snowfall, and discovering what the holidays are like all around the world.
Elfish pranksters. Benevolent spiders.
Finding food in your shoes.
Must be the holidays.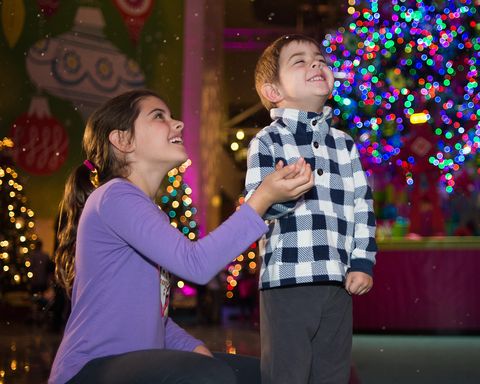 Look up
Celebrate the season
Find your family's story among the traditions on display, or discover things you never knew about other countries. More than 3,500 community volunteers lend their time and knowledge to create this annual celebration. You'll be creating some memories for the future. The magic of the season will be the faces of your loved ones as they experience this winter wonderland.
Christmas Around the World and Holidays of Light and scheduled cultural performances are included in Museum Entry.
Skip carousel
Christmas Around the World and Holidays of Light at the Museum of Science and Industry is one of my very favorite Chicago holiday events and is a must-see for my family each year – we've been going for more than a decade now. Shannan Younger Chicago Parent blogger
We bring the family here every year to see the Christmas Trees from around the world. Absolutely amazing! Lindsey W
Christmas Around the World is a wonderful opportunity to learn about how other countries celebrate the holidays. Ana Belaval WGN9 News
At Christmastime the museum decorates 50 Christmas trees, one for each country. It is so gorgeous and worth the admission just to see! katpilch Toledo, Ohio