life science
Live from the Heart
Go live into the operating room and watch via videoconference as a surgical team performs a heart bypass procedure. Talk to the team, learn about heart health and find out about medical careers.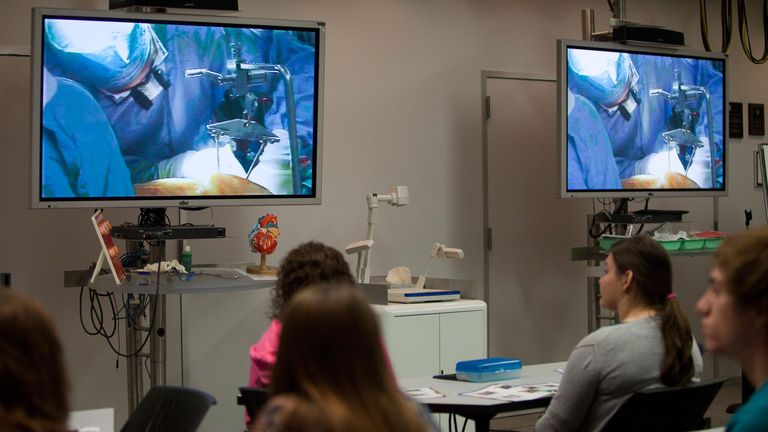 About the lab
Grades: 9-12
Capacity: 35 students
Duration: 2.5 hours
Cost: $300
Offered Wednesday at 9 a.m.; limited availability
Classes can participate either onsite at the Museum or remotely from a classroom with videoconferencing equipment. Onsite and offsite classrooms will take part at the same time.
Learn more about how the program works
Next Generation Science Standards
Science and Engineering Practices:
Asking questions
Obtaining, evaluating and communicating information
Crosscutting Concepts:
Cause and effect
Systems and system models
Structure and function
Disciplinary Core Ideas:
LS 1: From molecules to organisms; structure and function
LS 3: Heredity; inheritance and variation of traits
Illinois Learning Standards
11: A, B; 12: A; 13: A, B
Lab goals
Students will:
Increase their understanding of science concepts as they relate to bypass surgery.
Have an increased awareness of STEM careers.
Have an increased comfort exploring and engaging in the content.
Have a desire to learn more extending the ideas explored in the lab.
Work collaboratively with peers.
Communicate using correct terminology.
Develop questions regarding anatomy of the heart, careers in the OR, and their personal health.
Predict and observe what happens during the major steps of the surgery.
Practice observation skills by recording patient and bypass data.
Infer healthy lifestyle choices.